She was very glad to see those tiny wings flying again in colors of life! Romy McCloskey always believes that the butterflies are carrying message from her late mother  and she cherish butterflies more than anybody! Before her mother passed away she said to Romy that "don't worry whenever you see butterflies, just know it's me checking in on you to let you know I'm OK, and that I love you". (Scroll down to watch the video)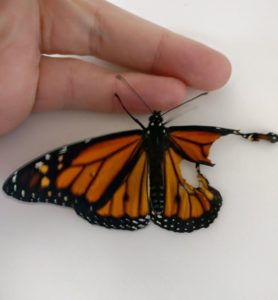 So when she so this Monarch butterfly with an injured wing she knew that she had to do something to save its life! The 3 day old little boy was born with torn upper and lower wings and she had to turn her home office into an operation theater to have a surgery on her special patient!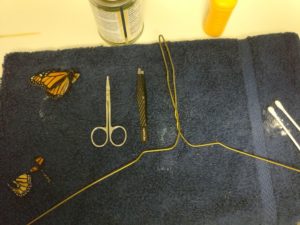 She had all the necessary tools like scissors, tweezers, towels, talc, contact cement, toothpick and had few wings from another butterfly of hers who died earlier last week.  I am sure she was expert enough in loving butterflies to perform this delicate surgery by keeping the tiny patient with a bent hanger with the ease of trimming hair or nails she fixed its wings to normal!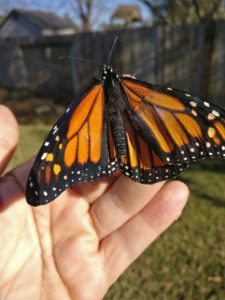 A bit of here and there mismatch, but its okay, he is ready to fly. A bit rest and he took off to his beautiful world hoping to meet her again with fresh regards from her mom!