This ladder can never be moved from this spot and there is no specific reason for the same! Physically there is nothing preventing the ladder from being moved. But it still remains as "immovable ladder" in the Church of the Holy Sepulchre. It's amazing to know that nobody knows how long it's been there, but to this day all visitors to Jerusalem can see this church and the ladder outside the church's window!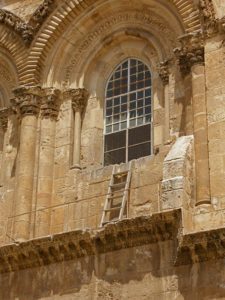 The church where the ladder is found is called the Church of the Holy Sepulchre. This church is said to house two things that are very importance to different religious groups. Even though none of them could agree on who the church actually belongs to, they all have a common agreement that none of them will touch or move anything in the church! And the bizarrely includes this random purposeless ladder!!
The reason for the bizarre rule about this ladder and its seemingly odd placement outside a window is very complicated to trace out. In fact it goes back to decades of history and the pictures of church from 1890 shows this "immovable ladder"! Although there is no practical reason why the ladder must be there, but its presence outside that window helps keep the peace in a region known for unrest. It was Pope Paul VI who ordered that the "immovable ladder" to remain in that place until the Catholic & Orthodox Church reach a state of ecumenism!
Don't you think these are few items to help trigger a surprise in our mind and its quiet brilliant to have few of them!