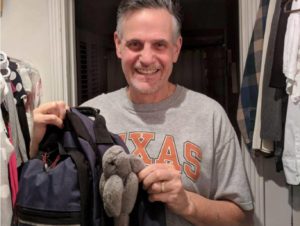 She just couldn't believe her eyes when she saw that stuffed animal she gave to his dad when she was just 2 year old. And today, after 18 years, he informed her that he still brings that beluga whale to work with him every day! The loving dad carried it everywhere he goes and he's been shuttling it to and from his law office ever since!
Yes! Pat Holmes,56, was really serious to his daughter's suggestion saying.
"When she gave it to me, she told me to take it out if I felt lonely. I don't like to be away from the kids, so I like to have it," he said. "I think of it as a part of them being with me." I've taken it to work every single day I'd put it in my suitcase and not tell anybody it was there. And then I'd put it back in my gym bag."
Mr Holmes said he doesn't have any stuffed animals as a kid. There were five siblings at his house and if they had something, it wasn't there for him for very long. As they all have shared the same toys! Recalling his childhood he was trying to correlate the importance of having one for all the time!
Even though he or his daughter remembers exactly how she gave him this stuffed animal, which actually is turtle. Neither of them even realized it was a turtle until people commenting on her Reddit post pointed it out.
Even his wife, Lisa who is well aware about him carrying this turtle ,never discussed about it with their kids. And for Mr Holmes,he always cherishes to have this turtle as a sweet memory of his children. For him it's presence was comforting as it serves something tangible, when he thought about his daughter and son, Samantha 20. and Jack who is now 22 .
"You have good days and bad days, but if you don't have family, you have nothing else". His reasoning is very simple and it's a sweet reality too!And the good news is that he will continue to carry the turtle and his daughter is happy to post this touching story!