An eye doctor went extra mile to provide the timely care for his precious patient, an elderly women! Dr. Yosef Gindzin of Grand Rapids Ophthalmology opened his office up on a Saturday and carried his patient through the snow in the parking lot to help support  his patient with a crucial eye injection to save her eye vision!
[Watch Video Below]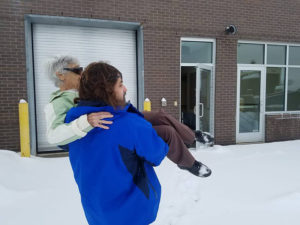 Lillian Havenga has wet macular degeneration and is nearly blind in her left eye, which is a kind of an unusual decease, delaying the injection can cause the eyes to bleed in total blindness!Infact she had an appointment on Thursday but couldn't make it because she was in hospital with another medical urgency! So Lillian and her daughter Marie Havenga didn't want to wait any longer to get her crucial eye injection and they were rushed to get the help from Dr Gindzin on his off day! But when they arrived at Dr Yosef's office there was too much snow in the parking lot to drive thorough or to navigate her wheel chair! So the Doctor carried her into the building, to and from !
Now this old woman is back at her home in Spring lake and she's ever grateful for Dr Gindzin's loving care in making her eyes to enjoy the shimmering lights of Christmas!