An extraordinary loving kindness from a well known doctor is now speaking volumes about his character. Dr Dean McKenzie, the chief of cardiothoracic surgery at Children's Healthcare of Atlanta made a trek in the snow to get one of his child patient from the home to the local hospital. The highly unusual snowfall in the region made the area flooded with snow and made the roadways tough to navigate, but the doctor was concerned about his patient to make that incredible move!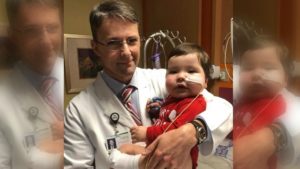 One of his child patient named, Madden has congenital heart decease and Dr McKenzie has performed open heart surgery on him in December. Child's mother Laura Beckwith says that she met this doctor at 28 weeks and something about his presence made her to trust this doctor for her son's life!
Now, when this Georgia doctor walked those extra miles to strengthen her trust and hearing that he walked to meet her son, Laura was stunned in surprise!His gesture of loving hospitality deserves a great appreciation as "It exemplifies the type of person he is"! The loving mom was greatly moved by his"incredible journey" and as a token of appreciation she has shared a photo of her son with Dr McKenzie with the world!