A two year old boy with cancer has stunned everyone after waking up from a coma moments after his parents agreed to tun off his life support! He become a "Easter Miracle" for the family and a living witness of Easter Resurrection for many!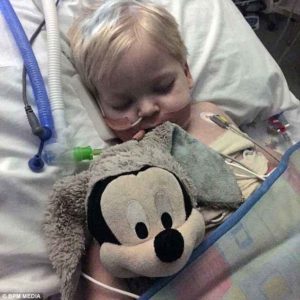 Dylan Askin was hospitalized on Christmas day on December 2015 with breathing problem and was found to have a collapsed lung. He had contracted an extremely rare type of lung cancer as his lungs were 80 percent covered in cysts. He was diagnosed with a rare decease named "pulmonary Langerhans cell histiocytosis (PLCH)". Initially he did recover a little to leave the intensive care unit. But then he had febrile seizure on his ward and contracted bacterial pneumonia which left his lungs in barely functioning!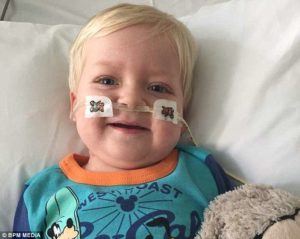 On Good Friday the doctors told the parents that the things were looking bleak and chance of getting him back to life is nil! From past two years on Dylan was fighting his illness, but finally his parents made the heartbreaking decision to have his life support machine turned off with a teary good bye!
"All the while we were singing to him and talking to him and saying goodbye." His mom said!
But, defied their expectations, Dylan regained his strength and was stable by Easter Sunday 2016. Soon after they withdraw his medication and began to sedate him, his heart rate dropped to normal levels and his oxygen levels started to pick up. Finally by God's grace on April4 on the very day of his parent's wedding anniversary Dylan was back to life in full health ! On May 16 Dylan was sent home and by July 21 he finished his cancer treatments!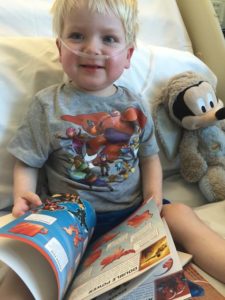 Kerry Askin, Dylan's Mum said; "I was strong in the belief that Dylan was our Easter Miracle. When we told our eldest son, he said he's like Jesus'- because he had been learning about it in school"!
Nearly 2 years on from the ordeal, his parents Kerry and Mike are actively supporting an Easter campaign for Clic Sargent. A charity which helps them in their trial time and helping many young people with cancer to cope with the costs of treatments!  The family is urging people to buy the charity Easter eggs at Morrisons to help the charity help others! Little Dylan is pictured in hospital with his family to encourage many more to have such Easter Resurrections!