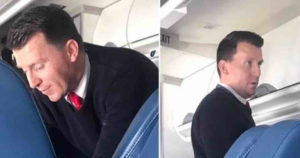 A flight attendant's kindness towards a passenger with Parkinson's disease is aptly appreciated in the internet after woman shared his story on social media. She was on a Delta Airlines flight from Detroit to Nashville last week when the flight attendant Jeffrey Jones, discovered that an older woman in coach class struggled with the neurodegenerative disease. The attendant immediately took the senior by the hand and escorted her to an empty seat in first class. Sharon Radcliffe was astonished to see such outstanding hospitality of a flight attendant escorting an elderly woman in great love and compassion!
When she asked for any help in caring for this elderly woman, Jones simply said " I got this". His own reason was good enough for Sharon to appreciate his lovely answer. He did this in great compassion because his own grandmother too had Parkinson's and that he was all good to handle this elderly passenger like his own grandmother!
Sharon, who works at a hospital in Marquette, Michigan, praised Jones for his kindness and she made sure his act of kindness is shared with many more people through her Facebook posts! Sharon posted her touching experience in Facebook saying"For the ENTIRE flight, I could see him checking in on her, patting her back, helping her get up, walking her (holding hands) up and down the aisle and generally 'mother hen-ing' her,"
Indeed the flight attendant also was delighted to receive this appreciation and expressed his gratitude saying""All of the positive comments, shares, feedback, etc have been an amazing and humbling experience for me. And thank you to Delta for showcasing my story… which happens to be one of thousands upon thousands of the good deeds and hearts we as flight attendants perform and share every day in and out of the air."
Thank God! Loving hearts and appreciable eyes are always around us! Keep on doing well! The rewards are definite!