Nobody shows up to read for this lonely dog and its owner went ahead taking up the matter little seriously to make him feel special! After his owner sharing the touching story about his dog in the internet, the response was staggering and the kids came flocking to read to this retired greyhound racer!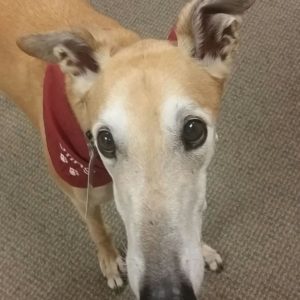 Sting, a 10 year old retired greyhound, who works as a certified emotional therapy dog was also engaged in a part time duty for children to practice their reading skills! As part of Paws to Read Program at a local library in White Bear Lake, Minnesota, Sting waits for the children to come and practice their reading aloud to him. But when nobody showed up and no bookings for Sting, his owner was prompted to send out a face book post asking of any kiddies, who were interested in coming to keep a rather forlom-looking Sting company for the evening!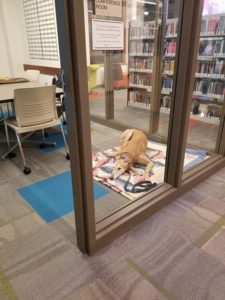 John Muellner has uploaded his dog's sad and heartbroken picture with a stunning caption to attract millions of sympathy for Sting, saying "Unfortunately nobody signed up to read to Sting…. If you know of a 4to 8 year old who would like to read to a dog..Please contact the White Bear Lake Library by phone or their website….  Sting will be there Feb 21 at 6.30 to 7.30!
"Sting's signature look" is now getting plenty of attentions and the library has been inundated with requests for reading with this "star dog". Through Paws To Read program Sting is now sold out for months in advance and his fellow reading dogs in the program are also in high demand!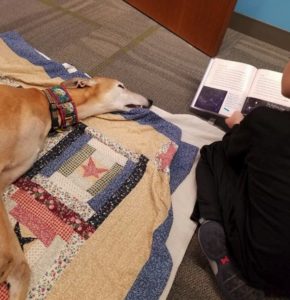 How true it is that dogs and cats enjoy the reading…We humans only need to support them!