An Indian policewoman breastfeeds an abandoned infant and her act of kindness is aptly highlighted. Archana's motherly heart was filled with compassion to see the newborn baby crying for milk and she fed him with a new life. After breastfeeding the hours-old baby boy, he was taken to the hospital for the necessary treatments.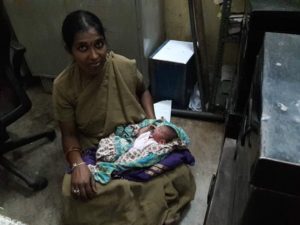 The incident happened at South Karnataka, the outskirts of Bangalore. The authorities received a call from a local shop keeper and arriving at the location they found a newborn baby who was covered in blood and was crying for life! The newborn was dumped in a plastic bag in a pile of garbage near a construction site. Police officer Nagesh R took the child to a nearby hospital, and later on handed over to a children's home to look after him!
'It is the government's baby now, and we decided to name him Kumaraswamy as it would be under the care of the new government"
Officer Nagesh told! Also the case is registered to find the unknown person who had abandoned the child!
Thankfully , "little Kumaraswamy" is blessed to get a second life by the help of a kind policewoman who felt like her own child was crying in front of her and she just couldn't bear it.!
"I just couldn't bear it," Archana said. "I felt like my child was crying and I had to feed the baby."
I am sure,watching such touching story will help us to regain our hope in humanity!