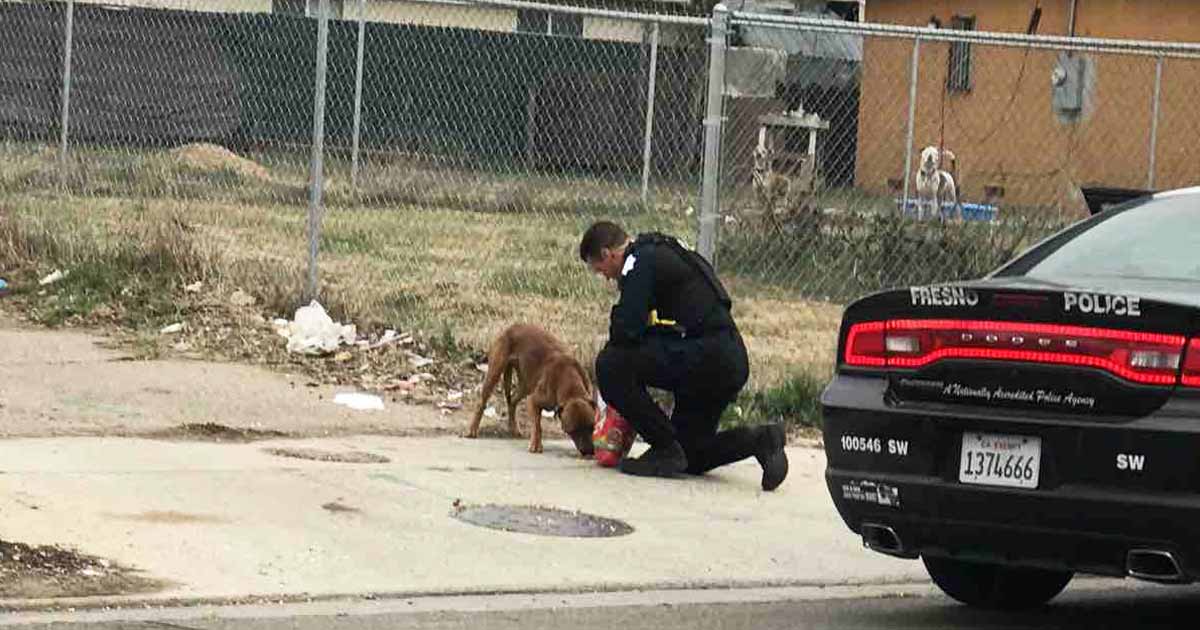 Seeing the police car parked nearby is a matter of concern for all around. Just two weeks ago the students and parents were worried to see this police car parked outside of their school compound. But when they saw what the officer was doing after stopping his vehicle, their worries turn out to be amazement!
Officer Sean Morris had stopped over the side of the road in front of Edison –Bethune Charter Academy in Fresno California to feed a stray dog! He had spotted this stray dog as he was making his rounds throughout the neighborhood. This stray pit bull mix that was sifting through trash and was trying to eat dead squirrel in the middle of the road!The canine who was trying to eat a dead squirrel was right in the sight of the kind officer.
Seeing the pathetic condition of the pup, the officer bought a bag full of dog food and started feeding the poor animal! Morris herded the dog towards the sidewalk, kneeled onto the pavement and poured out the food he bought for the pup! He made sure the pup had its full meal which was seasoned with love and compassion!
Watching this amazing gesture of kindness, who will not fetch a glimpse of it? A truancy officer at Edison-Bethune named Marty Solis snapped a photo of this kind gesture of love and posted it on his social media with a touching caption…
"You know, usually when kids see an officer, they think something bad happened. Some of the parents had stopped and were worried. But then we saw the kind gesture. It was real heartwarming"!
In response to his heartwarming post, congratulations and praises were overflowing for this officer saying …. "Thumbs up to this awesome officer"!