An English Teacher's extra-ordinary love to his students before a lengthy exam has captured the hearts of thousands and the story is worth watching.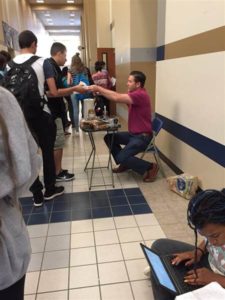 Brian Johnston, a teacher at Clear Springs High School in League City, Texas decided to bring his 11th grade students some healthy snacks before their AP (Advanced Placement) English Exam starts. The exam lasts more than three hours and the teacher knows they will get refreshed with a sweet snack!
"Students are usually absolutely exhausted for the rest of the day after these exams," Johnston said. "They have to go in with something in their oven."
Johnston bought the ingredients for peanut butter and jelly sandwiches and handmade them for any student who wanted one before the taxing test. He brought several types of whole grain bread and natural grape jelly for the students, which he thought would help them last through the test. He was inspired to do the same, when he saw their AP Biology teacher Vanessa Seghers has made snacks for her students in the past!
Thank God! This school is really blessed with many great teachers and I am sure the students will carry forward their great paragons!