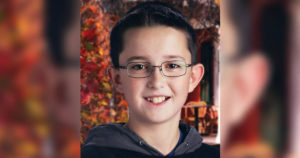 Even though he was down with an aggressive form of cancer disease, his compassion and graciousness speaks in volumes about his remarkable wisdom and maturity surpassing his age! 13 year old Trenton always wanted to find the ways and means to bless others and now his desire was fulfilled through Children's Wish Foundation of Canada when they  offered him the opportunity to fulfill the dream of his choice. He was kind and wise to donate his $6000 to support the extremely poor kids in Haiti, where thousands are killed by water borne deceases each year.
In the year of 2017 October ,Trenton Dyck from Picture Butte, Alberta had been diagnosed with stage four cancers named alveolar rhabdomyosarcoma (ARMS). Now the cancer is in its advanced stage and lately he has given just weeks to live! In the midst of battling this deadly decease, this young boy is determined to save as many lives as possible while he still has time !He still wishes others to join his vision to raise funds through compassion so that the peoples can be helped physically as well as spiritually!
Trenton has a strong faith in God and he strongly trust in the Word of God saying that the life in this earth is temporal but the life one needs to look forward is the eternal life in heaven. He seriously looks forward to see Jesus face to face and "putting on" his heavenly body to live forever! His loving kindness in serving the poor will surely make a channel for people to hear and respond to the Gospel of Jesus Christ!
Together we can pray for his speedy recovery and to have a heavenly peace to conquer his battle!
Trenton has partnered with Compassion Canada, hoping others will him in bringing clean water to Haiti. Let's all join in hand with Trenton for his great vision and contribute our best possible supports on his Compassion Canada  web page.
"Your love for one another will prove to the world that you are my disciples"(John 13:35)