Young sisters, Gypsy and Story Retting wrote a moving note to their late father and sent to heaven expecting their dad will read their note. Their note which was attached to a balloon and released it up to the sky gave them a heartwarming response, after a kind stranger named Dunahoe, who stays 6 miles away from their house read the touching note. (Scroll down to watch the video)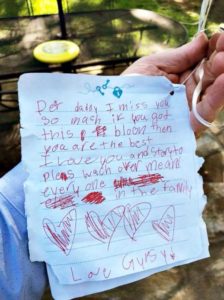 7-year-old Gypsy and 6-year-old Story Retting had been devastated since their father Skyler Retting passed away in 2017, followed by the complications caused by a car accident. That incident was too much for the family to endure and the children were badly missing him. That's when they launched a balloon a year after his death from Colleyville to heaven.
Lance Dunahoe, 49, a business and a trainer saw the balloons landed on his yard on a fine Friday morning on May. Dunahoe was about to leave to work from his home at suburb of Fort Worth, when he received the balloons and read the notes.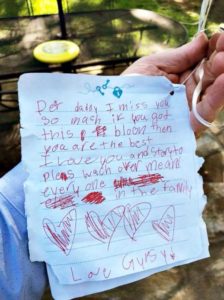 I was very curious," Dunahoe told "It was very private messages two girls sent to their father and landed in my yard,"  
One note said "Dear dad, we want to go up with you, we miss you so much. We want to go and hug you, and do all of the things you do. Love, Story."
Another note read: "Dear daddy I miss you so much if you got this balloon then you are the best. I love you and Story too. Please watch over me and everyone in the family. Love, Gypsy."
Dunahoe was so touched to see the letters and made all the efforts to reach over to the sender of the balloons. Finally through FaceBook he could reach out to, Tiro Western, the girl's mother over phone. Coincidentally the day that Dunahoe discovered the balloon, Story, who suffers from epilepsy, was admitted to a Texas hospital. He went to meet them in the hospital on the very next day itself and with balloons and notes in hand, he embraced the little girls with a teary eyes saying..  "I'm a daddy also,".
He was kind enough to extend emotional and financial support to the grieving family and he set up a GoFundMe account to help alleviate the financial burdens on Western, who babysits to make ends meet. And the widow mother who is overwhelmed to receive such great gesture of love said that she never though the balloon sent into the sky by Story and Gypsy would end up in a yard of a man with such a huge heart!
Going through the story, I choose to believe that the angels have purposefully dropped the balloons at the right yard to make sure the little girls are watched over and their family is supported by a kind man named – Lance Dunahoe!