A therapy dog named, Sherman is a 2 year old, 230 pound Old English Mastiff who lives with his family in Longview Washington! He loves to visit with anyone who is in need of having their spirits lifted. Recently a stranger who was in real need of a loving hug was welcomed at Sherman's shelter and the dog has really lifted his broken spirit!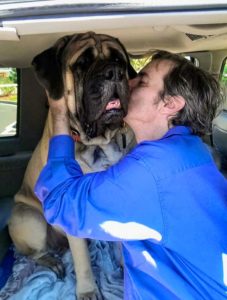 It just happened that Sherman and his family was stucked in the huge traffic jam for more than 15 minutes. During this time the owner of Sherman has got a call from a stranger named Andy, who too was stucked in the same traffic lane!Their vehicle was displayed with the picture and the number of Sherman and was easily accessible to Andy to make that lucky call when he saw  Sherman big ol head out of the window.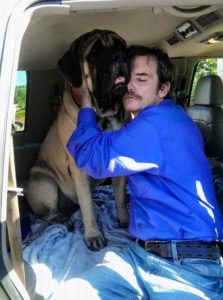 His soft sound carries all the agony of his heart ..he was quick enough to explain his desperate condition as he was on his way back from a nursing home facility after multiple back surgeries! He too had a dog and now because of his health condition he had to rehome his large breed dog . Infact he was not in a position to take care of his dog any more and that was really breaking his heart! And that day seeing Sherman ,really pushed him to pet him for sometime…Hearing his story the kind owner has promised to spare some time, and says goodbye to Andy!
However the sad voice of Andy was really touching to move the owner to call him back immediately. He asked him to meet Sherman right away near Wal Mart parking lot to "Hello to Sherman real quick".Reaching  the parking lot , they have opened the door of the suburban and welcomed him to sit inside near Sherman !!!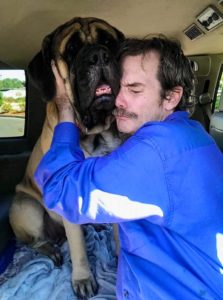 The dog started nuzzling into him and his presence was good enough to lift his spirit and fill his eyes in tears of joy. Those  lovely moments were too precious and before long all of them were soaked in tears of love!
Perfect love , which is the bond of perfect unity!(Col 3:14)- God's Word is once again testified here!