Etiquette is at the very heart of Golf, and for any Professional golfer the very last thing they need is noise while they are about to play a shot.
Pro Golfer, Brandon Matthews, was in the middle of a crucial putt in a Golf tournament in Argentina when he heard a sudden cry from the gallery.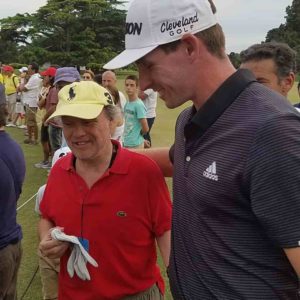 The 25-year-old golfer got distracted by the sound and missed the 8-foot birdie putt. He ended up losing the Visa Open de Argentina title in Buenos Aires, and the exemption to play in next year's British Open which came with it.
"I thought someone had done it intentionally," he said, "I was frustrated. Really, I was in shock that that just happened."
The tournament director apologized for the incident because of which, Colombian golfer Ricardo Celia won the tournament.
He told Matthews the sound came from a fan with Down syndrome who got excited during the match.
That made Matthews forget about his loss and made him want to meet the fan. When Matthews met the unidentified man, he gave him a big hug and signed a glove for him. The moment was captured in pictures posted by PGA Tour Latinonamerica, on social media.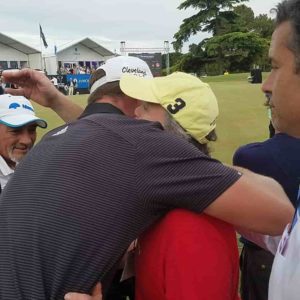 "I gave him a hug and I asked him, 'Hey, are you doing OK? Are you having fun?"' Matthews said. "I just wanted to make sure he was enjoying himself, that he had no hard feelings, that he didn't feel bad about what happened.
He added, "I didn't want anyone to be mad at him. I didn't want him to be mad at himself. I wanted to make sure he knew that I wasn't mad. That's all I wanted to do."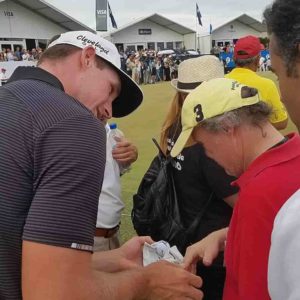 The sister of Matthews' best friend growing up had Down syndrome, and his mother used to manage group homes and work with people with special needs.
"I have a soft spot in my heart for it," he said. "Those are really special people. I felt so terrible that I was even upset. I just wanted to make sure that he didn't feel bad."
Matthews was able to put his heartbreaking loss behind him and take things in a positive manner as he said, "Some things are bigger than golf, and this was one of them," he said.