A viral picture of a deer hugging a firefighter near Burns Lake is touching many hearts on social media.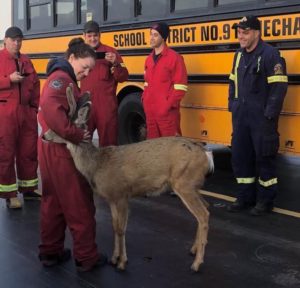 The photo was captured by Jan Giesbrecht, when she was driving firefighters from and to the Burns Lake fire camp, across Francois Lake.
She said that she had left the Burns Lake area along with the day shift firefighters taking them to the south side, and dropped them off with their trucks, and the night crew was getting on to the bus in the south side ferry landing when she saw the deer wandering around and walking up to people, looking for a pet.
He came near her bus and stepped up as the firefighters were getting on. She said that the deer followed the bus to the ferry and rode with them, to the other side.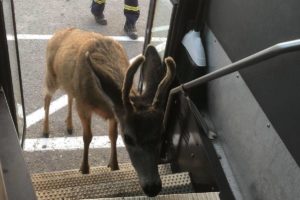 Giesbrecht said that the deer is not around the wildfires, but is very friendly, visiting the people and wanting their attention.
He was again at the ferry landing again the next morning, and has been sighted frequently during the fire season.