This elderly woman who just got out of the hospital and is a Cancer survivor was in tears after a part-time employee unexpectedly paid for her groceries when her flex card did not work.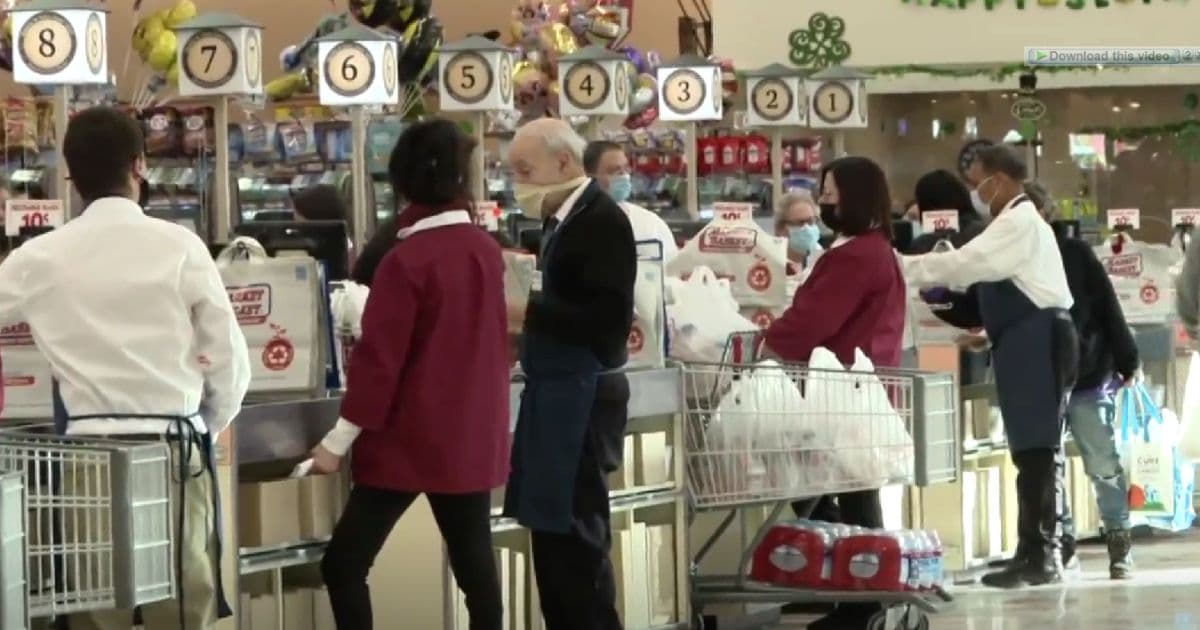 Sally Petreyko, 76, lives on a fixed income. She is a senior citizen with a disability. An empty ref and pantry awaited her after coming out of the hospital. She recalled, "I was literally without food."
Her kindhearted neighbor, Carrie, offered to take her to Market Basket, a grocery store in Johnson recently. "It was very busy. We were in there for quite some time cause I was excited to get the Flex Card, so I had a little money in the bank, [a] few food stamps left over. I figured I'm going to just go for it all and stock my refrigerator and freezer," Sally said. A "Flex Card" is given to qualified senior citizens to buy nutritious food in grocery shops.
Off they went to the grocery shop, and finally, she could have decent meals after getting sick. Then, something unexpected happened. "When we went through the register, we had a difficult time because the Flex Card did not work."
She was distraught since she didn't have the money to pay for the goods. Joe Conlan, Market Basket's part-time front-end store employee came over to check what was going on. "We do what we can for guest expectations," he said. "I went over to her register; we went to customer service, and we tried to figure things out."
Sadly, the "Flex Card" was not being accepted at certain locations. Joe noticed that this helpless woman was already stressed and worried. He noticed that she was trying to hold back her tears. "She was visibly upset," he described.
"He was constantly trying to tell me, 'Just relax, we will figure this out,'" Sally said. Out of nowhere, Joe did the unthinkable. "I pulled my card out. I said, 'Just put it on here,' and I asked her to pay it forward. I told her that I was blessed to be able to do it, and I just wanted it to be an act of kindness."
"I was just looking at him in shock. I was trying to grasp everything that was happening," Sally recalled. Joe paid $198 out of his pocket. This kind gesture assured her that she would have food in her ref and pantry for the next few weeks.
He initially refused to be interviewed but eventually agreed to encourage people to bless others also. "It doesn't have to be $198; it could be a cup of coffee," Joe told NBC News. "Anything to help someone out, make their day. Random acts of kindness are so far, and few between and people seem to find the negative, and I think if people take the opportunity to be kind to one another that would be great," this Good Samaritan added.
Joe said that this woman was so appreciative. She hugged him, and he knew that she became his "friend for life." Sally said, "That man needs some kind of recognition. They're few and far between. He was so kind to me. I'll never forget him as long as I live."
At the end of the day, the Lord can turn any unpleasant circumstance into a blessing. Sally knew that it was God who paved the way for her to be blessed. "It's not often that you come across a person like that, but when you do, all you can say is, 'Thank you, God. Thank you, God.' All-day long I kept saying, 'Thank you, God.' He was there when I needed him."
"And we know that in all things God works for the good of those who love him, who have been called according to his purpose." Romans 8:28