God's love for Israel is evident in countless Bible verses, offering a sturdy anchor of hope and encouragement, especially during challenging times like the ongoing conflict with Hamas. This unshakeable love is not just seen in words but in action.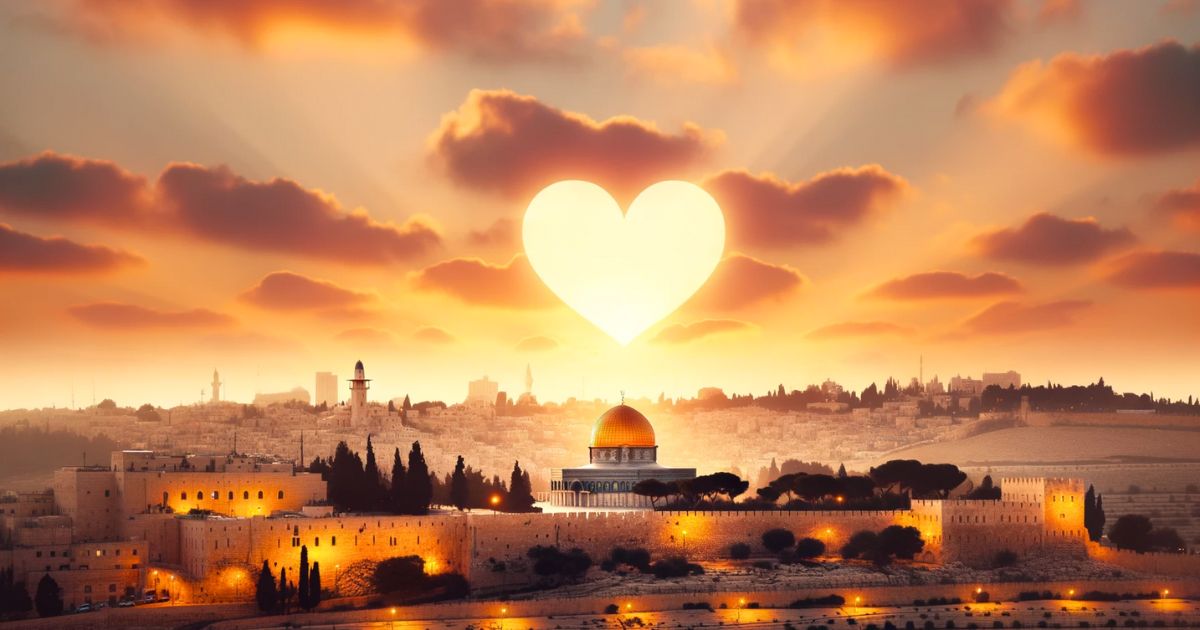 In numerous instances, God has showcased His mighty hand to help His people. Take, for instance, the moment when the Israelites, led by Moses, found themselves trapped between the mighty army of Pharaoh and the Red Sea. God, demonstrating His power and faithfulness, parted the waters, providing a safe passage for His people and subsequently thwarting the pursuing Egyptian forces (Exodus 14:21-29).
Similarly, consider the Battle of Jericho. The Israelites were up against the heavily fortified city of Jericho, a challenge that looked pretty unbeatable. But God had a plan. He told them to walk around the city walls, and after doing this for seven days, on that final day, they gave a big shout and blew their trumpets. What happened next was nothing short of a miracle – the mighty walls just crumbled down, giving them a surprising victory in a situation that seemed impossible (Joshua 6:20).
These instances aren't just historical events; they serve as timeless reminders that even in the face of adversity and seemingly hopeless circumstances, God's love and commitment to His people remain unshaken.
God isn't just a promise-maker but a covenant-keeping God, ensuring that His word to Israel isn't based on shifting sands but on a solid foundation that stands the test of time and tribulation. His covenant, or promise, isn't something that expires or fades away. It's eternal, providing a ceaseless assurance of His presence and intervention, even in the midst of the battlefields, literal and metaphorical alike.
In the current scenario, where Israel grapples with the hardship and heartache of war, these scriptural reassurances stand as a comforting, unyielding pillar, whispering the promises of a God who has been, is, and will always be with His people. This undeterred love and promise, that have been a stronghold for generations of believers, assure that He will continue to stand with Israel, safeguarding and guiding through every storm that unfolds.
Here are 30 Bible verses that clearly express God's unwavering love and commitment towards Israel.
1. Deuteronomy 7:8
"But because the Lord loved you and kept the oath He swore to your ancestors, he brought you out with a mighty hand and redeemed you from the land of slavery, from the power of Pharaoh king of Egypt."
2. 2 Samuel 7:23
"And who is like your people Israel—the one nation on earth that God went out to redeem as a people for himself, and to make a name for himself, and to perform great and awesome wonders by driving out nations and their gods from before your people, whom you redeemed from Egypt?"
3. 1 Kings 10:9
"Praise be to the Lord your God, who has delighted in you and placed you on the throne of Israel. Because of the Lord's eternal love for Israel, he has made you king to maintain justice and righteousness."
4. Jeremiah 31:3
"The Lord appeared to us in the past, saying: 'I have loved you with an everlasting love; I have drawn you with unfailing kindness.'"
5. Isaiah 43:4
"Since you are precious and honored in my sight, and because I love you, I will give people in exchange for you, nations in exchange for your life."
6. Zechariah 8:17
"This is what the Lord Almighty said: 'Administer true justice; show mercy and compassion to one another.'"
7. Psalm 136:21
"and gave their land as an inheritance, His love endures forever."
8. Exodus 2:24-25
"God heard their groaning and he remembered his covenant with Abraham, with Isaac and with Jacob. So God looked on the Israelites and was concerned about them."
9. Jeremiah 30:22
"'So you will be my people, and I will be your God.'"
10. Psalm 147:19-20
"He has revealed his word to Jacob, his laws and decrees to Israel. He has done this for no other nation; they do not know his laws."
11. Isaiah 41:8-9
"But you, Israel, my servant, Jacob, whom I have chosen, you descendants of Abraham my friend, I took you from the ends of the earth, from its farthest corners I called you."
12. Deuteronomy 14:2
"For you are a people holy to the Lord your God. The Lord has chosen you to be his treasured possession, out of all the nations on the face of the earth."
13. Psalm 44:3
"It was not by their sword that they won the land, nor did their arm bring them victory; it was your right hand, your arm, and the light of your face, for you loved them."
14. Ezekiel 36:28
"Then you will live in the land I gave your ancestors; you will be my people, and I will be your God."
15. Hosea 11:1
"When Israel was a child, I loved him, and out of Egypt, I called my son."
16. Nehemiah 9:7
"You are the Lord God, Who chose Abram and brought him out of Ur of the Chaldeans and named him Abraham."
17. 1 Kings 8:23
"He said: 'Lord, the God of Israel, there is no God like you in heaven above or on earth below—you who keep your covenant of love with your servants who continue wholeheartedly in your way.'"
18. Psalm 47:4
"He chose our inheritance for us, the pride of Jacob, whom he loved."
19. 2 Chronicles 2:11
"Hiram king of Tyre replied by letter to Solomon: 'Because the Lord loves his people, he has made you their king.'"
20. Zephaniah 3:17
"The Lord your God is with you, the Mighty Warrior who saves. He will take great delight in you; in his love he will no longer rebuke you, but will rejoice over you with singing."
21. Psalm 106:8
"Yet he saved them for his name's sake, to make his mighty power known."
22. Exodus 19:5
"Now if you obey me fully and keep my covenant, then out of all nations you will be my treasured possession."
23. Isaiah 44:2
"This is what the Lord says— he who made you, who formed you in the womb, and who will help you: Do not be afraid, Jacob, my servant, Jeshurun, whom I have chosen."
24. Psalm 78:68
"But he chose the tribe of Judah, Mount Zion, which he loved."
25. Deuteronomy 33:3
"Surely it is you who love the people; all the holy ones are in your hand."
26. Jeremiah 33:26
"I will restore the fortunes of Jacob's tents and have compassion on his dwellings."
27. Isaiah 49:15
"Can a mother forget the baby at her breast and have no compassion on the child she has borne? Though she may forget, I will not forget you!"
28. Psalm 135:4
"For the Lord has chosen Jacob to be his own, Israel to be his treasured possession."
29. Zechariah 2:8
"For this is what the Lord Almighty says: 'After the Glorious One has sent me against the nations that have plundered you—for whoever touches you touches the apple of his eye.'"
30. Jeremiah 32:41
"'I will rejoice in doing them good and will assuredly plant them in this land with all my heart and soul.'"