A heartfelt graduation note penned by a father to his son, shared on Reddit, recently stirred up a wave of emotion across the internet community.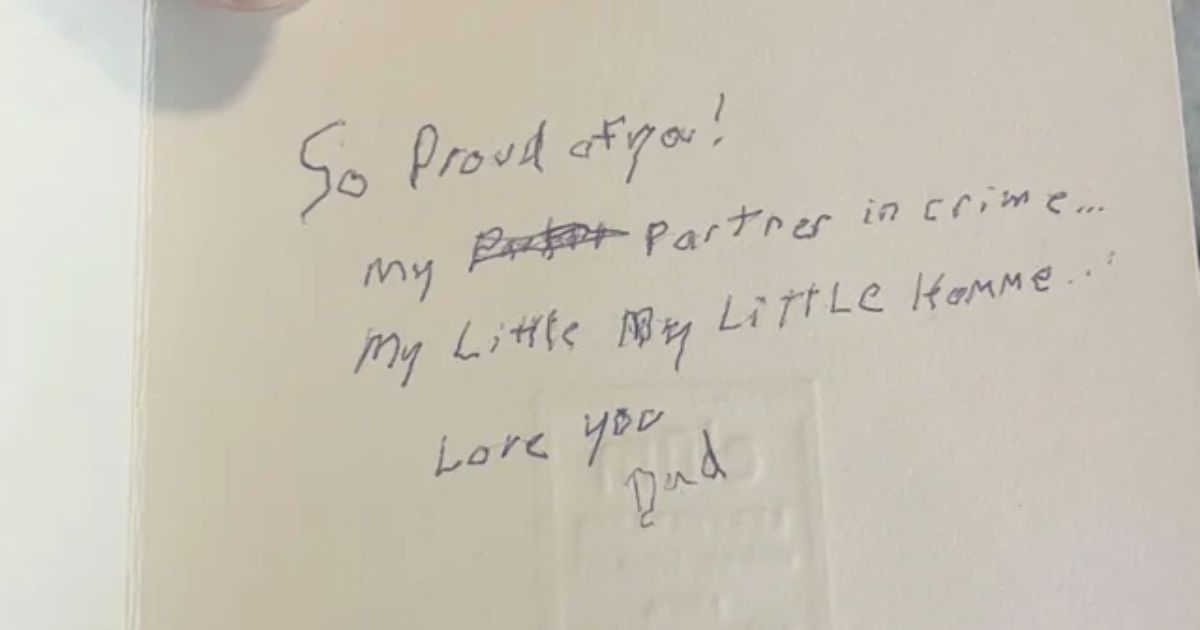 Graduations are universally recognized as momentous occasions, celebrating the culmination of years of relentless hard work, unwavering dedication, and thousands of hours of rigorous study. These ceremonies serve not only as a beacon of accomplishment but also as a reflective pause, allowing graduates and their families to reminisce over the journey that has led to this milestone.
A user named ItsDevax recently shared on Reddit an image of a graduation card he received from his father. The card held a simple yet profoundly meaningful message, "So Proud of you! My partner in crime…My Little Little homme… Love you Dad." Despite the spelling errors and covered-up mistakes, the card bore a depth of sentiment that touched the hearts of many.
The backstory of this moving message adds another layer to its significance. As the caption explained, the father took over twenty minutes to write the note. A task made challenging due to his health condition. He was diagnosed with brain cancer in 2009, underwent three brain surgeries, and endured extensive radiation treatment. These health adversities made activities like writing, previously completed with ease, a daunting task.
Despite these hurdles, the father found the strength to pen this beautiful note, encapsulating his immense pride and love for his child. The Reddit user wrote, "Writing is extremely difficult for him but he still managed to write this on my card. I'm keeping this forever."
This poignant moment goes beyond the tangible realm of a mere card. It transcends into the realm of emotional profundity and endurance, symbolizing a father's unwavering love, resilience, and hope amidst his personal hardships.
My dad spent over 20 minutes writing this graduation note for me. He was diagnosed with brain cancer in 2009 and has had 3 brain surgeries and a lot of radiation. Writing is extremely difficult for him but he still managed to write this on my card. I'm keeping this forever. (OC)
by u/ItsDevax in MadeMeSmile