A Henrico police officer is crediting God for helping him be in the right place at the right time so that he could save a man's life.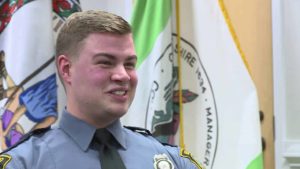 Lisa Gravitt's father, John Luck, Jr., 79, from Hanover, had collapsed in the parking lot of Cook Out in Short Pump. "All I could hear was my mom crying and screaming in the background," she said.
Thankfully Officer Jonathan Turner was there in the parking lot. "My wife was the one that pointed out there was someone laying in the parking lot with people around him," Turner said.
Turner was off-duty taking a Thanksgiving break from his job as a school resource officer at Elko Middle School. His family were at the trampoline park and then headed to the Cook Out where Luck had collapsed.
Turner immediately ran towards then finding the 79-year-old unresponsive, he wasn't breathing and didn't have a pulse. So Turner started giving him CPR. "It only takes four to five minutes for brain damage to start," Turner said. "So being able to start CPR early is key in making sure somebody can survive."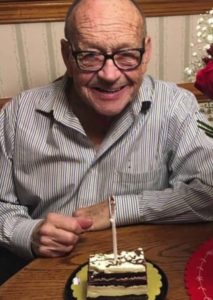 First responders soon arrived and took over and managed to get Luck's pulse back and took him to the hospital. But then something else was to happen.
"[My mom] said well, there was this man, and he gave him CPR," Gravitt said. "I said, well do you know who he was? She said I don't know, I think he was a policeman, but I'm not sure."
Gravitt's mom told her what happened with her dad in the parking lot and how off-duty officer Turner saved his life with timely CPR. "He has stage 4 COPD and AFib, which is a heart condition," Gravitt said. "The doctors think his heart rate just dropped to zero basically and he just went out."
Gravitt started posting and searching for the officer on Facebook and found him after 8-10 hours. "I had a message on Facebook that Officer Turner had sent me and said he was the one who had been there that evening with dad," Gravitt said. "I couldn't believe it. I was so excited."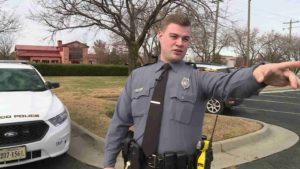 Gravitt sent messages back and forth to him thanking the officer for his life-saving action. "It was a lot of talking back and forth realizing how much divine providence was involved in this situation," Turner said. "From making our three-year-old go out, even though he didn't want to, to leaving the park a few minutes and pulling into the parking lot what I think was mere seconds after he had his medical incident."
"He and I have been talking about how things happened that evening and God definitely placed him at the right place at the right time that night for my parents," Gravitt wrote on Facebook. "We are SO grateful for him and his selfless act of kindness. May God bless him and his family as he continues to serve our community."
Turner and her family called him a hero, but the modest officer dismissed that saying, "I'm just doing what any other officer or firefighter would have done in that same situation," he said.
Luck has been discharged from the hospital after spending three days in the intensive care unit at Henrico Doctors Hospital. The family couldn't be together with him on Thanksgiving but celebrated n Sunday, "He's my mom's rock, he's my rock, he's my son's rock – he's the main man in our world and we all look to him for strength," Gravitt said.
As her father recovers, Gravitt said her dad is looking forward to meet the man who saved his life, officer Turner. "He's just so excited," Gravitt said. "All he can talk about right now is getting his strength up and being able to meet him and shake his hand."
Henrico Police also thanked the family for reaching out with a positive update. The unfortunate incident has made the family and Turner encourage people to take a CPR course to help save other people's lives.