Bob and Nancy Shellard celebrated their 67th wedding anniversary differently because of COVID-19, on March 14 in Stafford Springs, Connecticut.
Nancy Shellard looked out of the second-story window of her nursing home, waving and blowing kisses to Bob on their anniversary day as Bob held a beautiful homemade sign which read, "I've loved you 67 years and still do. Happy Anniversary."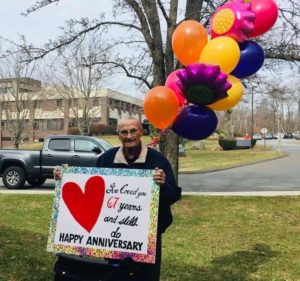 As much as Bob wanted to visit his wife and wish her in person, he couldn't because of coronavirus concerns. But he did not allow the visitor ban to stop him from celebrating with his bride, so he stood below her window with his sign and balloons in hand.
"This is the first anniversary that Bob and Nancy have ever been apart," the couple's daughter Laura said. "Before the ban, Bob came to visit her every day."
"They have always been an inspiration to us and I think just seeing every year go by that they still express it in some way on their anniversary," Laura said.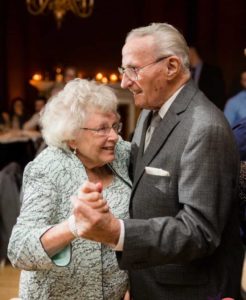 "It makes me feel bad because I want her down with me and I know she can't be," Bob said.
Nancy has Alzheimer's and dementia and even though she may not remember her husband's sweet gesture, he wanted to make sure that she would know how special she was to him.
He did succeed because Nancy told the staff that she felt like a queen that day.
ELDERLY COUPLE SEPARATED BY CORONAVIRUS CONCERNS CELEBRATE 67 YEARS
– Bob Shellard isn't allowed to visit his wife in her nursing home. That didn't stop him from celebrating 67 years of marriage with her.
***Take care of the elderly in your communities when you can! They are most at risk for COVID-19**
WPTV Stephanie Susskind WPTV Erica Rakow

Posted by Mike Trim WPTV on Monday, March 16, 2020
"There's just a sweetness to the two of them and what they share," their daughter said.
"It's just been an example for us, for all of us of kids. So all four of us have really learned a lot from them and I can only hope that I have half as much as what they have shared over the years," Laura added.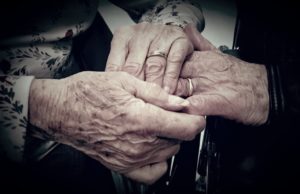 "I wouldn't want anybody else," Bob shared about his wife.
"I don't think she could put up with anybody else besides me."
As fear is spreading because of the coronavirus and even the most tough are finding it difficult to remain positive, we must hold on to the word of God and keep loving no matter what.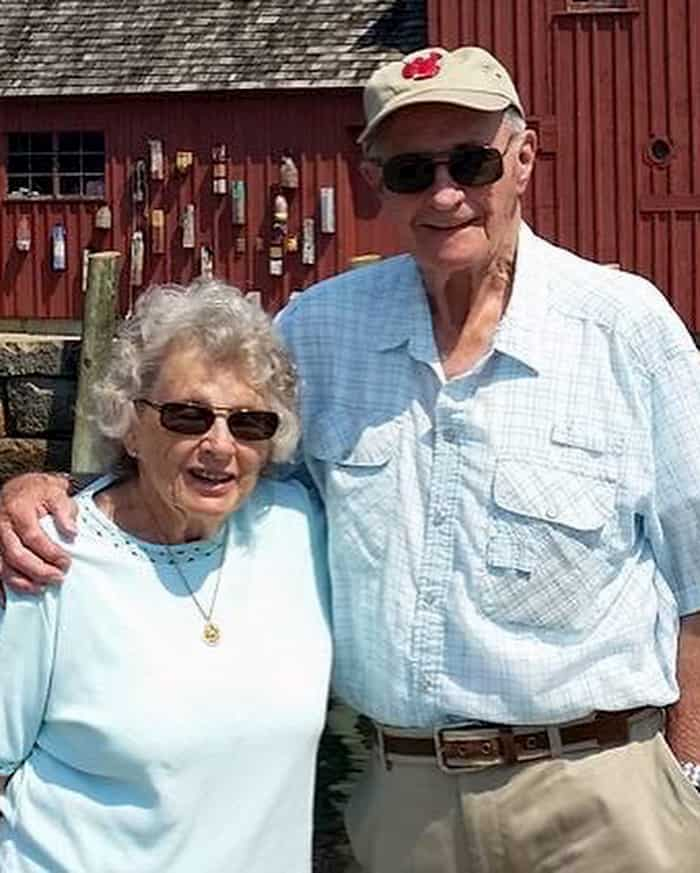 Paul's words in the New testament about love is so relevant for these times. 1 Corinthians 13:4-8: "Love is patient and kind; love does not envy or boast; it is not arrogant or rude. It does not insist on its own way; it is not irritable or resentful; it does not rejoice at wrongdoing, but rejoices with the truth. Love bears all things, believes all things, hopes all things, endures all things. Love never ends. As for prophecies, they will pass away; as for tongues, they will cease; as for knowledge, it will pass away."