A group of kind-hearted and brave Canadians couldn't stop themselves from helping a moose stuck in the mud.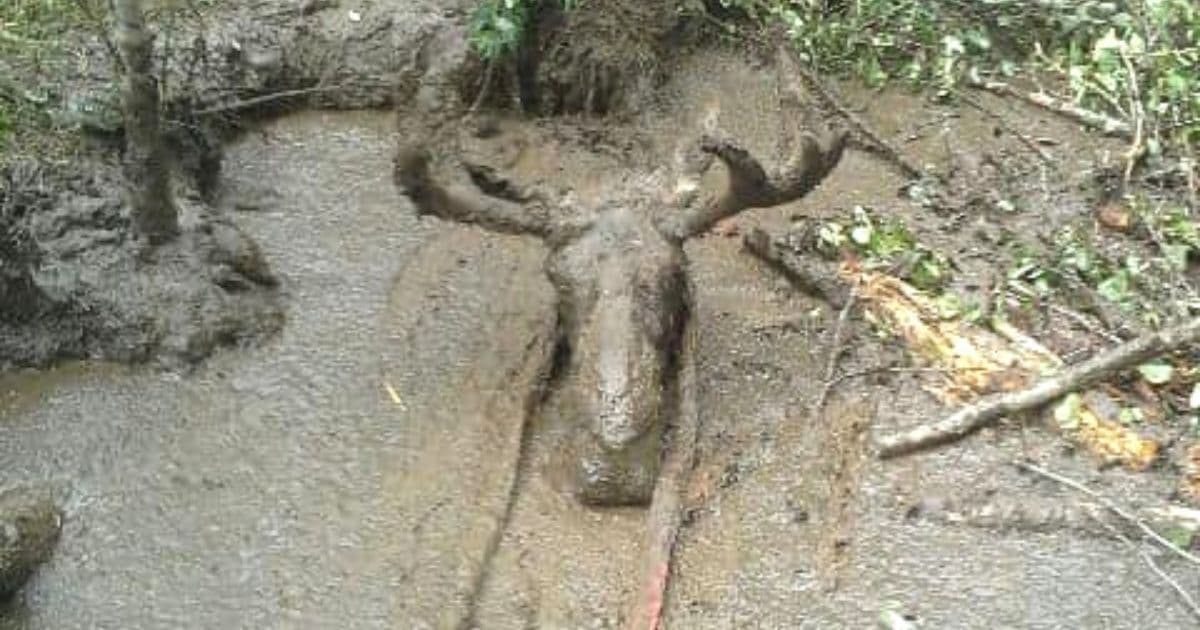 The incident
The incident happened on Aug. 25, when a man spotted a strange sight north of Timmons in Ontario, Canada. The mud-colored moose's head was sticking up from a massive mud pit, the man called two local friends and they came to check on the situation.
"It was about three or four miles from my home, so I thought it wouldn't be much of a job to go over there and try and get him out," Maurice Valliere, one of the two men, said.
The moose
"He was buried right up to his head … he was fighting, and fighting, and fighting just to keep his head out of the mud." Valliere and the third man, Pat Greba, knew how powerful the moose was, so they tried to contact the proper authorities for help.
They were not able to contact the Ministry of Northern Development, Mines, Natural Resources and Forestry, according to a post by a friend who later shared their story. He said they tried for over an hour to go through the proper channel.
But at the end of the day, the moose was still stuck and getting more tired by the minute. So Greba and Valliere decided to rescue it using straps and Greba's Argo ATV.
The moose was a bull which was a positive thing since his antlers gave them something to wrap the straps around. It was the only thing they could use since the rest of him was submerged.
"I was hoping to try to go around his stomach and try and get him out, but he was in too deep," Valliere explained. "There's no way I could have jumped in there, so the only option I had was to go around his horns." They succeeded and after the moose rested for a while on his side, he got up and went away.
"He scared me so I ran away, and he was stuck with one of the straps hanging there [attached to one set of antlers]," Valliere said. A friend shared the photos and story the next day.
"Thanks to my 2 prospector friends (Moe Valliere (Pictured) & Pat Greba ) this moose is back on the loose," Bill Desloges wrote in an Aug. 26 Facebook post. "They worked hard to help rescue this moose from certain death.
"They were contacted by a friend (Helmer) about this situation. They tried contacting MNR for over an hour with no response. This took place 6 km down Hwy 655 and 2 km into the bush. Pat used his Argo to pull the big guy out. Way to go guys."
The NDMNRF said they have no record of contact about the incident and stressed that rescuing a moose in this sort of situation is dangerous. The men have received plenty of praise from other locals and readers, but they were very humble about it and said anyone in their shoes would've done the same.
"We didn't think it was that much of a big deal because everyone in Timmins would have probably gone out and helped," Valliere said. "We all love our animals here."