A Georgia professor literally proved that she had her students backs, when she taught a 3-hour class with a student's baby strapped on to her.
Her student is a new mom of a little baby, and she couldn't find a babysitter, so the professor volunteered to baby sit the student's baby while teaching in class.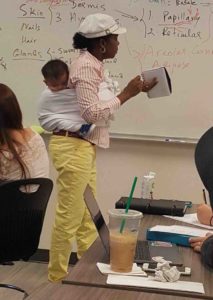 A photo that has gone viral from that class shows Ramata Sissoko Cissé, an assistant professor of biology at Georgia Gwinnett College in the Atlanta suburb of Lawrenceville, taking a 3 hour class of anatomy with the baby strapped up to her back.
She said that the student called her late the night before class to tell her that her babysitter was sick and asked her permission to bring her baby to Cissé's anatomy and physiology class the next day.
Professor Cissé is a mother-of-three, and said that "For her to trust me made me feel like I had to help," Cissé said. "It's like a moral responsibility."
However, as the baby kept moving in the class, it was hard for the student to hold him and write at the same time. I said, 'Hand me the baby,'" Cissé said. But as she couldn't hold the baby and write on the white board, Cissé improvised and found a white lab coat and tied the baby to her back.
The baby fell asleep quickly and stayed quiet for the rest of class. Cissé was able to use the baby as an example in the lesson, teaching on topics related to the nervous system, brain function and metabolism.
When a student asked her how the baby slept so peacefully, Cissé explained that with her body temperature next to him, the baby was cozy and warm and could relax. She also told the mother to warm up the baby's milk before giving him the bottle, so that it would aid the baby's metabolism.
A spokeswoman for Georgia Gwinnett College said the student did not want to be identified and that the professor said, 'I teach because they need to be prepared for life'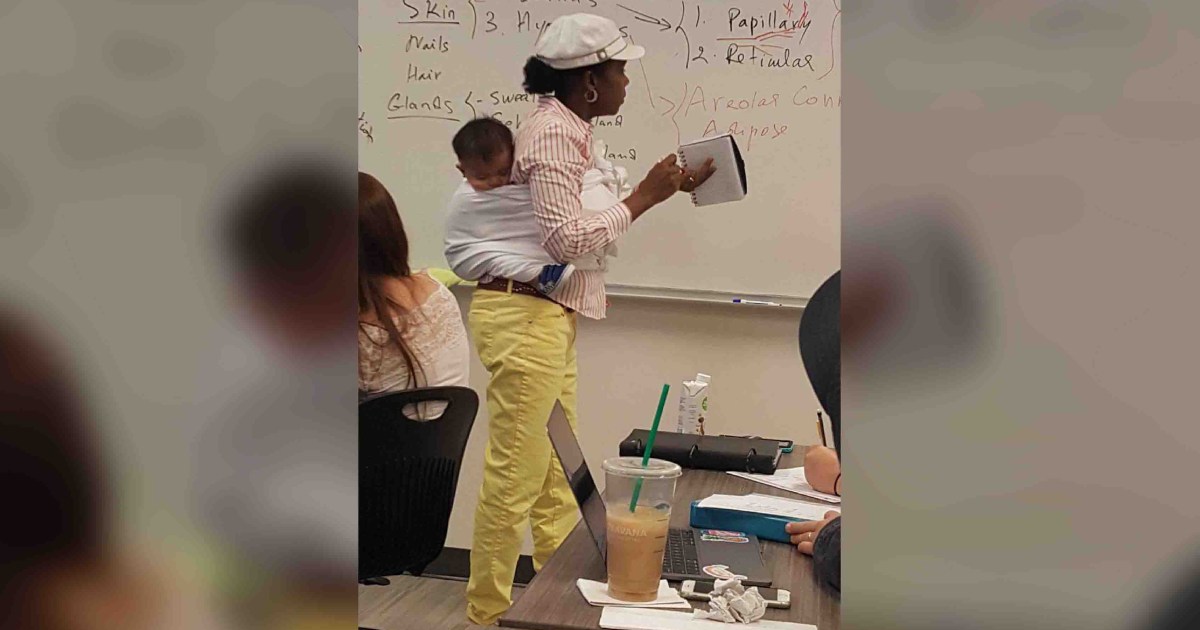 Cissé said the student e-mailed her after class to thank her, and she wrote back, "You're welcome, I'll always be there for you." And the student replied, "I know."
She said those two words meant a lot to her.
"Love and compassion are part of the philosophy of my classroom," Cissé said. She is hoping to teach the young students those qualities by practical demonstration like holding the baby during class as being a good health care provider is not only about studying textbooks.
"I'm hoping they can spread love, take it to other people who need it," she said. Cissé is a beacon of light to all her students and along with her studies she is teaching them the importance of small acts of kindness in their lives.