A shelter dog tried every trick in the book to avoid getting collected by animal control officers, but was finally rescued and adopted by a loving family.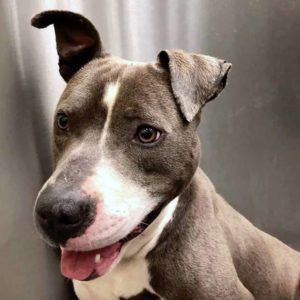 Oliver was found as a stray after he refused to leave a family's backyard in Memphis, Tennessee.
Animal control officers tried to collect him, but he would not let them come close to him, he would jump over the fence and escape.
They had to rope in the Memphis Animal Services and set up a humane trap to get him.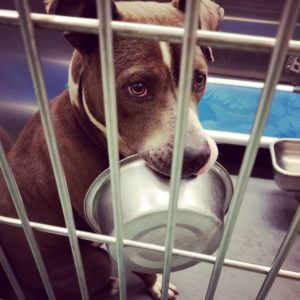 Once Oliver arrived at the shelter, all could sense that he had a home earlier, and he was very smart and loved food and treats, as he knew that if he behaved himself he would get treats.
"I met him the first day he came in, and he sat for me immediately before I even showed him I had treats," Katie Pemberton, community engagement specialist at Memphis Animal Services, said. "Then, of course, as soon as the treats came out, he was even more eager to sit. The more he got to know me, the more he would press himself up against the bars of his kennels to let me pet him."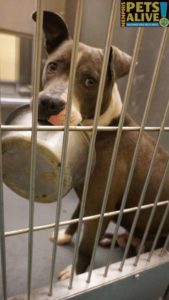 He became very attached to his food bowl as he loved food and even carried it around with him everywhere.
"The very first night he got here, our field supervisor passed by his kennel in our ACO intake room and noticed him with his bowl in his mouth," Pemberton said. "His cute trick was very effective because she gave him more food! Then when he moved to his permanent kennel, he kept doing it. He had his bowl in his mouth most of the time."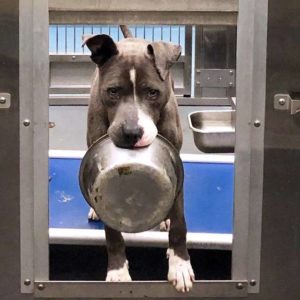 Someone from the shelter probably taught Oliver to pick up his food bowl as a trick, or maybe because of the hard days he had seen, he would carry his food ball everywhere he went at the shelter, and the staffers loved it.
They started taking pictures of him with his bowl and shared it on social media.
"We received a very unusual amount of inquiries about Oliver after his photos went viral — I wish every dog had that many people interested in adopting them," Pemberton said.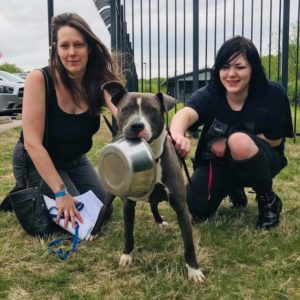 All the internet frenzy over him and his cute pics led him to get adopted by a loving family.
Oliver was adopted and went to stay with them on April 16 along with— his food bowl.
He deserves to be happy and healthy with his new family and never hungry again.