America's war veterans have been at the forefront of the country serving the nation so that you and I can sleep in peace and security, but out of more than 18 million or nearly 7% of the population, many of them face homelessness and are hardly able to keep up with the bills.
But today, one of them is receiving a heartwarming gift amount of $157,000 after a fire destroyed his home in New Jersey. 94-year-old WWII veteran, Paul Roberts' house caught fire on March 14 as he was getting ready to go to sleep according to a GoFundMe campaign.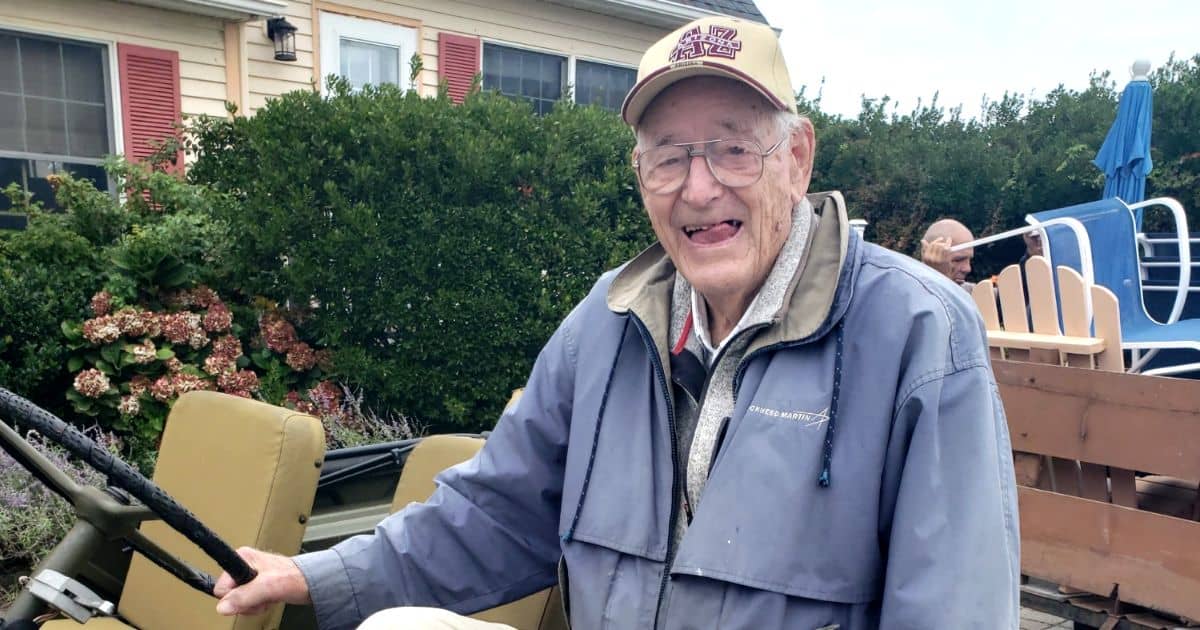 The campaign was set up by his neighbors and details of what happened on that fateful day are on the campaign page which said, "He opened [his bathroom] door and saw black," the page explained. "He thought the lights went out. He took one breath in and realized it was a fire, so he dropped to the floor and crawled out the back door."
There's nothing much the former Marine and retired mailman could do to save his belongings and lost everything except a few photo albums. Roberts had gone to ask for help from the neighbors when the fire broke out in his home, now they are raising financial support for him to get back on his feet.
Everyone who lives near Roberts knows that he was struggling to pay bills using his pension for a long time. "At 94, Paul knows he only has a short time left with us," the GoFundMe page said. "He was hoping he could stay in his home until his death, as he has been a staple here in Ship Bottom for over 50 years."
Apart from this, Roberts lost his daughter, Joan, due to illness as well as his son, Mark, according to GoFundMe. During Hurricane Sandy in 2007, his home was flooded but the neighbors helped get it restored. A thankful Roberts said that "It's a great place to live, I'll tell you," Roberts said.
The neighbors know how much Roberts loved his house and wanted to live till his last day on earth in his own home. "Paul would like to be able to end his time here on earth in his favorite place," they said. "He's the whole neighborhood," neighbor Richard Obermayer said. "He's like the mayor."
Speaking of the condition of the house, they said, "He had insurance, but because the house was so old, most of the construction was out of code. Within three days the town notified him that he must have the house torn down. We are hoping with crowdsource funding, we can give him the resources to help him in rebuilding a new house."
Roberts is blessed to be able to live among neighbors who have so much kindness in their hearts towards him and have been helping him all along the way. He says he is grateful for his community and those ones who are helping him online as well. He says, "There's a lot of good people in this world, I found out. I don't know what I would have done without them," he said. "I appreciate everything. God bless you all."
Our neighbor is someone around us with whom we can share God's love with. Not only those we are comfortable with but all those who God places in our path. Jesus said, "I tell you, love your enemies and pray for those who persecute you, that you may be children of your Father in heaven. He causes his sun to rise on the evil and the good and sends rain on the righteous and the unrighteous. If you love those who love you, what reward will you get? Are not even the tax collectors doing that? And if you greet only your own people, what are you doing more than others? Do not even pagans do that? Be perfect, therefore, as your heavenly Father is perfect" (Matthew 5:44–48).
May we learn to love and help our neighbors in need, in doing so we will be the hands and feet of God. This story was a superb example of how we can show God's love to others without expecting anything in return.