It was a much-deserved victory for talented singer Angelina Jordan when she received the coveted Golden Buzzer from judge Heidi Klum on America's Got Talent.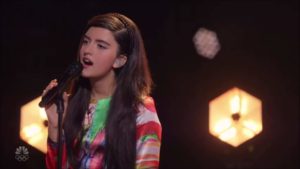 Season 2 premiere of "America's Got Talent: The Champions," was a total sell-out with a line-up of talented performers from around the globe.
"I cried immediately," Angelina said after she got the Golden Buzzer from Heidi. It came after she gave a haunting performance of Queen's "Bohemian Rhapsody."
Angelina had previously won "Norway's Got Talent" 2014, at the tender age of seven and is a favorite to win "AGT: The Champions."
With the Golden Buzzer she has been sent straight through to the finals. "Thank you so much, Heidi Klum, I love you so much!" she said.
Angelina also spoke about the reason behind why she she sings barefoot on stage, "After I got the Golden Buzzer, we talked about why I'm barefoot. When I was around six years old, I saw this little girl around my age. I gave my shoes to her because she had scars on her feet and it was really cold. So, whenever I'm on the stage I always remember all the children that don't have any parents, clothes and shoes. She's always in my heart."
What a wonderful talent platform AGT is and we look forward to the competition as it looks to be a tough battle among the competitors to the finals this year.