Anne Wilson is all of 19 years of age, she likes to look at the stars is a big fan of the show, "The Walking Dead" and says that her morning cup of vanilla iced coffee from Dunkin is straight from God. "I feel like it's just straight from God," she said. "It's like he blesses that coffee in particular."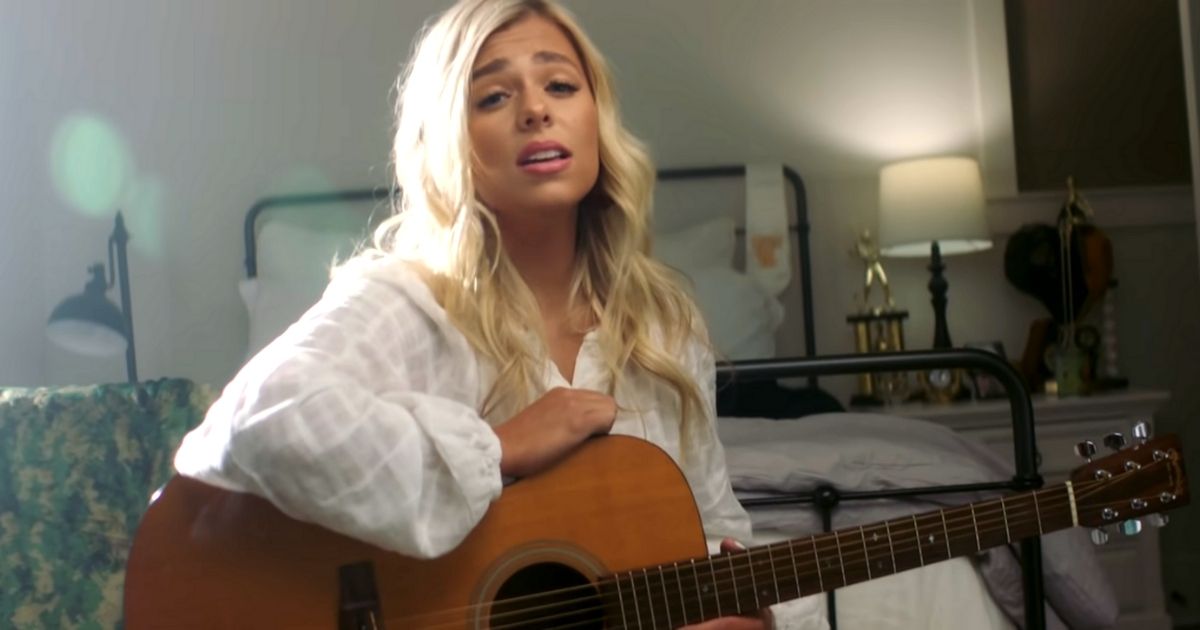 Anne Wilson
Wilson from Kentucky, says she loves Jesus more than anything, she recently debuted with "My Jesus," which recently hit No. 1 on the Billboard chart for Christian music. The official video has been viewed 6 million times on YouTube, and a live version of the song, with co-writer and Christian artist, Matthew West, has been viewed more than 2.5 million times on Facebook.
Wilson's live EP that includes "My Jesus," has been streamed more than 37 million times, according to a press release. The song was written after her brother was killed in an accident four years ago, and touches the hearts of all those going through difficult times.
'My Jesus'
Are you past the point of weary?
Is your burden weighin' heavy?
Is it all too much to carry?
Let me tell you 'bout my Jesus

Do you feel that empty feeling?
'Cause shame's done all its stealin'
And you're desperate for some healin'
Let me tell you 'bout my Jesus
Wilson co-wrote the song with West and Nashville songwriter Jeff Pardo and said her success started after a dark time in her life. She said that after she heard the news of her brother Jacob, who was 23, she went to a piano and began to play "What a Beautiful Name," a popular Hillsong Worship anthem.
The then 15-year-old played the song at Jacob's funeral at her parents' request. Anne Wilson later recorded a video of the song with some friends and posted it on YouTube. "This song is dedicated to the loving memory of my beloved big brother, Jacob," Wilson wrote in the video's caption. Thank you Jacob for always encouraging us to praise God, work hard, and always be kind. We love and miss you more each and every day."
It was a twist of fate that, that YouTube video, which was viewed a quarter million times, was viewed by a producer in Nashville and led to Wilson signing with Capitol Christian Music. "The unprecedented success of 'My Jesus' is just the beginning, and we cannot wait to see what is to come for Anne," Capital Christian Music co-presidents Brad O'Donnell and Hudson Plachy said in a statement.
Anne Wilson was born and brought up in a Christian home, attended a Presbyterian church where her parents taught her about faith in God, that she made her own as a teenager. She was introduced to country music especially Johnny Cash and Dolly Parton's music and she's still a Dolly fan, saying "9 to 5" is her all-time favorite.
Wilson picked up the piano at a young age and surprisingly had never sung in public before her brother's funeral. She was an astronomy and science buff, and always dreamed of working for NASA. She said being a professional musician had never crossed her mind.
Remembering her brother, Jacob
Wilson hopes that her brother Jacob is proud of her, growing up the two were close and she recalled his sense of humor and kindness. One day when Anne Wilson had stayed home from school as she was feeling sick, Jacob went out to hunt some squirrel for her along with his hunting dog Sally. They went to the backyard and shot a squirrel and cooked it up for lunch.
The meal put a smile on her face and it was surprisingly tasty. "We put powdered sugar on it and we dipped it in barbecue sauce, and whatever that combo is, it was so good," she said.
Learning the craft
Now Anne Wilson has spent the last two years learning the craft as a musician and writer for a living. She's also living away from her family home and has settled in Franklin, Tennessee, a Nashville suburb, where Christian music stars such as Amy Grant, live.
Apart from being on the road, Wilson is also making new songs for her album, which is due out next year. The success of "My Jesus" has been a complete surprise for her, although she knew the song was good, she was shocked by how well it was received by listeners.
Anne Wilson says she feels grateful to God, "It's been a whirlwind of emotions," said Wilson. "Just thankfulness and gratefulness, watching God take my story, which was something so broken, and turning it into something so beautiful."