In an unplanned yet unforgettable twist to Auburn University's "Night of Worship," around 200 students chose to get baptized in a nearby lake last Tuesday night, marking a significant spiritual awakening on campus that left many attendees "speechless and in awe."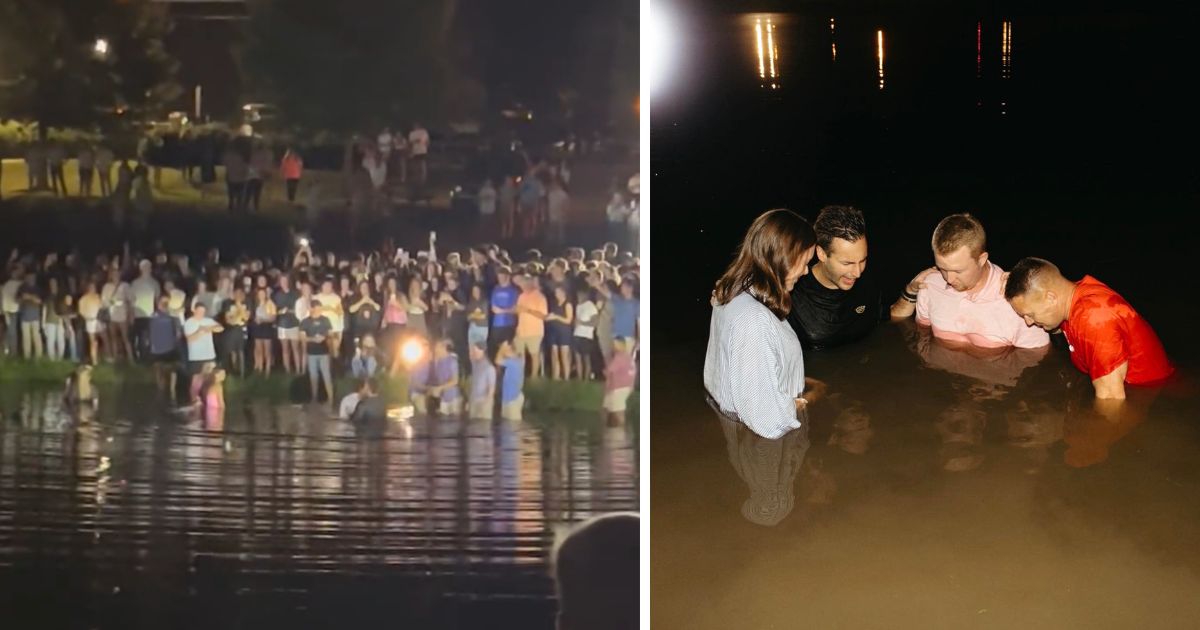 The event initially aimed to unify the Christian community at Auburn with a night of praise and worship. Over 5,000 students and members of the faculty filled Neville Arena to be part of the faith-filled event, which featured New York Times Best Selling Author Jennie Allen and Pastor Jonathan Pokluda as guest speakers. Worship was led by Passion Music, drawing the crowd into a collective atmosphere of spiritual dedication.
What took the night from remarkable to extraordinary was the spontaneous decision for mass baptisms. Jennie Allen described how one student's text message expressing the wish to be baptized that very night set the stage for what was to come. "I finished a message at Auburn and was off stage and a student texted the pastor beside me they wanted to be baptized tonight. So I went back on stage and asked if anyone else wanted to trust Christ and be baptized," she said. The result? "Dozens raised their hands," Allen added.
Lacking a baptismal tub in the arena, the massive crowd migrated to a lake near Auburn's Red Barn, forming a circle around the water. "They circled the lake and 6-10 of us were in the water baptizing hundreds," detailed Allen. Auburn's head football coach Hugh Freeze was among those wading into the waters to assist with the baptisms.
View this post on Instagram
'God is Moving and He Isn't Stopping'
The occasion wasn't just significant for the students; it was a watershed moment for the broader community. "People surrounded the lake 'til almost midnight hearing the stories of life change and shouting and cheering and praying together," Allen recounted.
Those who witnessed the unfolding event were deeply moved. "Never in my life," said Auburn student and journalist Kristen Carr, echoing the sentiments of many. "I was even talking to adults who were there and they said they had never witnessed anything like that."
A revival is happening tonight in Auburn. People are getting baptized at Red Barn with hundreds of people cheering them on. The baptisms started following an event at Neville arena tonight called Unite. @TheAUPlainsman @AUFAMILY pic.twitter.com/PzEza1UWKz

— Kristen Carr (@kristencarrau) September 13, 2023
A Call for Continued Faithfulness
Jeremy Napier, the chaplain for the Auburn men's basketball team, encouraged the newly baptized students to stay the course and integrate into a local church community. "We serve an awesome God who can do amazing things. My prayer obviously is that all these decisions were genuine decisions and heart change," he said. Auburn University senior Michael Floyd shared similar sentiments: "This is just a message of unity. And when you are a part of the Body of Christ, you are never alone."
As the ripple effects of this spiritual event continue, many believe this is just the beginning. "God is doing something on Auburn's campus," Allen emphasized, seeing the spontaneous baptisms as "part of a bigger story that's happening here."