A Georgia mechanic traveling down a busy highway was shocked beyond belief when he saw a baby crawling near the road.
Bryant Collins was traveling down Highway 72 when he noticed a baby coming closer to the highway, he immediately started to press on his brakes.
When he came to a halt he realized that the mass that was about to enter the middle of the road was a baby. "I didn't think it could even be a baby at first," said Collins.
"How could it be a baby out here in the middle of nowhere? But at the same time, while I'm thinking that, my foot is mashing the break so fortunately, thank God nobody was behind me because this is one of the busiest highways in the area, if not the busiest. By the grace of God, there was not even a car coming either way."
Collins couldn't believe that a 15-month-old baby was wandering the highway by herself. He immediately called 911 and informed them of the incident. While he and the baby waited two hours as police investigated the situation, he started to play worship music for her when she became worried and started crying.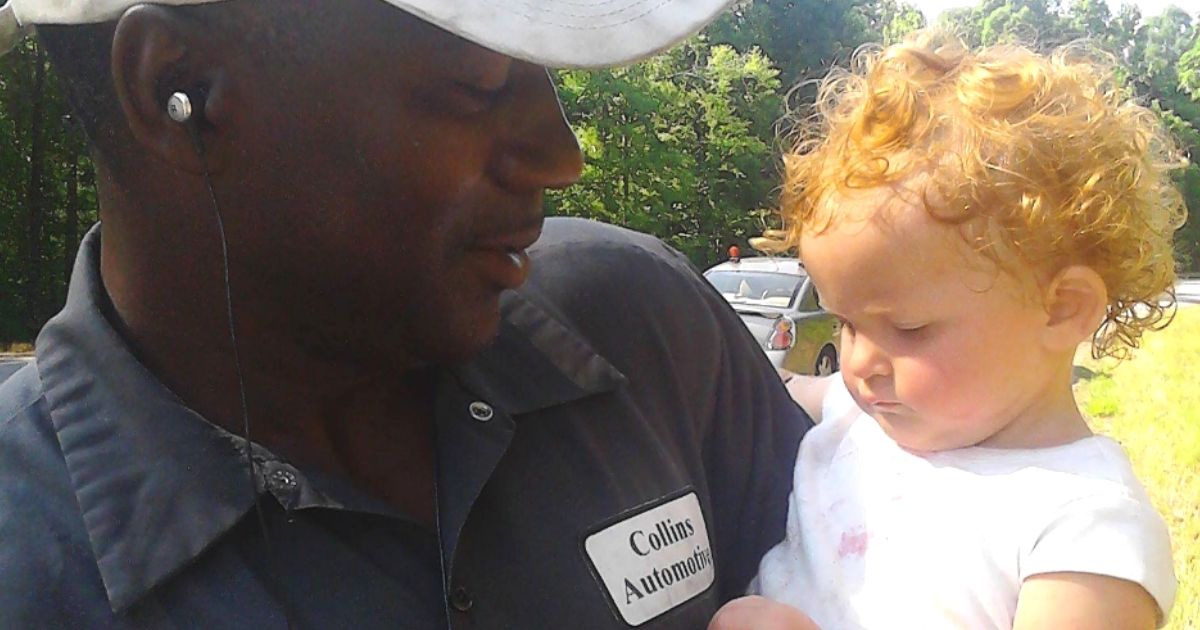 "The baby started crying. Then I turned my phone on and let the baby listen to some Gospel music, and she calmed back down," he said. "I know gospel music calms me down." They bonded over the two-hour wait and the baby became comfortable in his presence. "She looked at me like she knew me or something," said Collins.
Police said that the baby crawled 300 yards from her home through the woods and into the highway. Emergency crews arrived, and her father was arrested immediately.
Sheriff Kip Thomas said it was a miracle "that a 15-month-old can go that far from her house, into the woods, fall down an embankment, wind up near a major highway and really not get hurt that bad."
Collins has a criminal past but today was called a 'hero' because he'd be the one to save the day. He served 10 years in the federal institution for manufacturing cocaine but resolved to turn his life around during his time there. "While I was in prison, I decided I can't come home like I came to prison," he said.
And he did just that, now he has been five years clean and sober and works as an auto repairman. When he was asked how it felt to be called a hero for his act, Collins said he did "nothing extraordinary," and that it was the right thing to do.
He admitted it felt refreshing to be redeemed from his past by doing something good. "It made me feel good that I could you know be in society and do good," he said with a smile. "Just as well as you can do bad, you can do good."