These kids are never too young to make a difference. A team of young baseball players stopped in the middle of their game not because their coach called for a time out but because they need to pray for an urgent medical concern.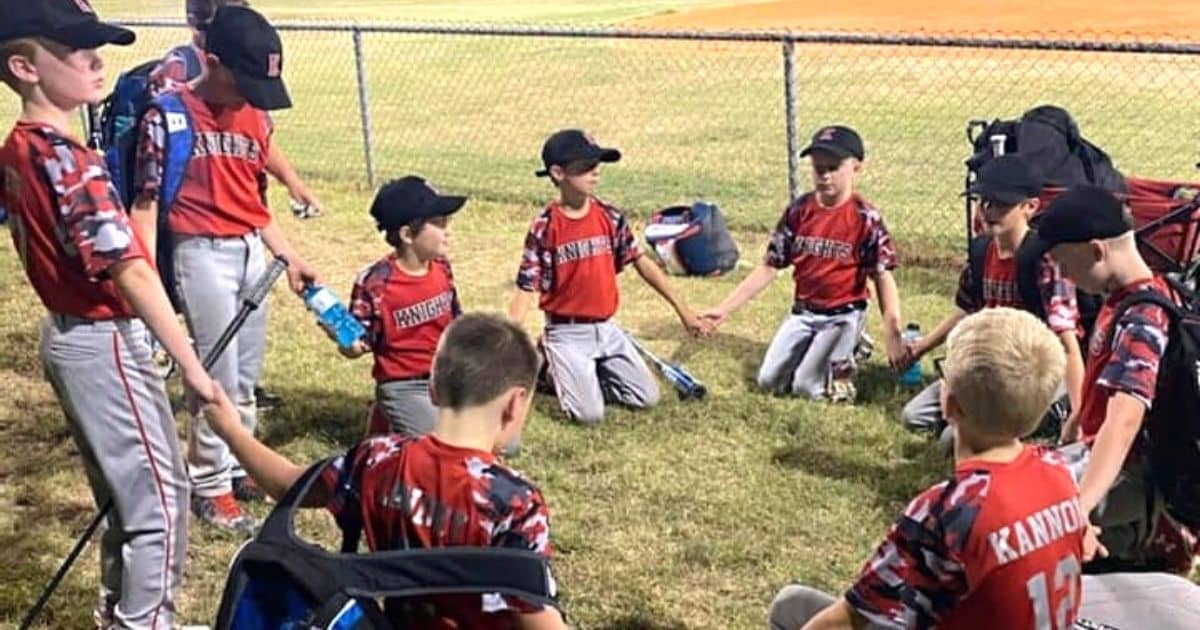 It was a typical day for these little league players. Their goal is to win this game. Little did they know that there will be a turn of events in the middle of the game. As usual, people, mostly friends and family members flock to watch baseball games. Their support and encouragement greatly affect the players' performance.
However, one of the family members who's excited to watch the game experienced a medical emergency. The grandfather of one of the young players faced a major health scare. What's supposed to be an enjoyable game, ended up as a medical emergency. The adults immediately rushed to the elderly man in the stands to check on him and to provide urgent medical care. While everyone was busy attending to the patient, another important event was taking place on the side.
This team of young boys aged 10 years old and below, gathered, held one another's hands, and started to pray. Blake Bastin, a pastor from Oklahoma, was quick to notice and took a snapshot of the prized moment. No one even told them to initiate praying. The immediate response of these young boys is truly admirable. They did not panic but resolved to pray and knew that they needed God's intervention for a miracle that day.
Out of joy and admiration, Blake posted this picture on his Facebook account, and it definitely, got a lot of attention. "This is the faith we all should have. Like a child who comes to a loving father. We don't have all the answers, we aren't sure what to do, we may be afraid, and we sense in these moments that we are powerless……so we turn to Him. And our loving father listens and delights in our prayer. Thank you for the lesson, boys," Blake posted on his account. As of this writing, it already has 21K shares, more than 3k comments, and 20k likes. This only proved that these tweens have created a great impact not only for their team member's granddad but also, for a lot of people who were not in the stadium that day.
It's inspiring to know that these young players knew that praying should be the first response in times of emergency or challenge. They are not too young to let us realize that there are things that are beyond our control that must be surrendered to the Lord. It's also comforting to know that they faced this ordeal as a team. They did not leave their buddy alone. They showed concern for him and his sick grandfather by standing/praying with him.
Guess we indeed, witnessed something spectacular that day! The game might have been halted, but this shot and its lesson will forever be imprinted in our hearts.
"In my distress, I called to the Lord; I cried to my God for help. From his temple he heard my voice; my cry came before him, into his ears."
Psalm 18:6