While everyone was busy preparing for Christmas, a man from Zimbabwe did not think twice and braved the flames to save lives in the middle of a fuel tanker and bus collision.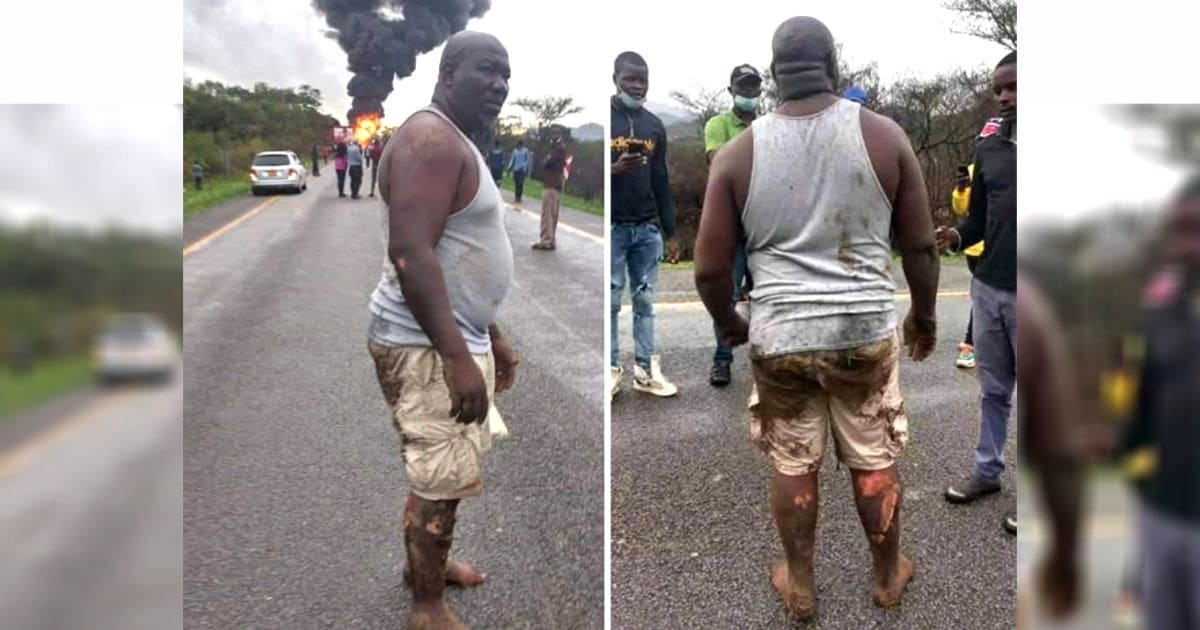 The unfortunate accident happened along Harare-Mutare Highway last December 24. Sirizani Butau, our modern-day hero, rescued eight people from a burning bus. The fuel tanker crashed into the bus carrying 60 passengers.
Sirizani, a truck driver, was one of the first people who responded to the emergency. He pulled eight passengers out of the burning bus and, sadly, suffered third-degree burns on different parts of his body.
He is now being attended to at Kadoma hospital. A picture of this brave man with burns on his legs is circulating on Social media now. The bus could also be seen engulfed in fire and black smoke just a few meters from where he was standing.
Let me take this opportunity to appreciate Sirizani Butau who saved people from the Mutare Accident .As government we will honour him for his selfless sacrifice. pic.twitter.com/bb2qU6NvWO

— President of Zimbabwe (@edmnangagwa) December 26, 2021
This picture moved the viewers to initiate raising funds for Sirizani's medical bills. His Ecocash mobile number was posted on Social media, and finances started to pour in. It reached its limit already, leaving other Zimbabweans not being able to give. A philanthropist who identified himself as @thegiverzim on Twitter also gave $250,000 to Sirizani, my Zimbabwe News reported.
"At the moment, he is unable to talk because he is being attended to by doctors. what we can say is he is overwhelmed by the kindness and love from across Zimbabwe, he never sought to be a hero, and he does not feel like one," told Trevor, his brother, in a NewsDay interview.
Emmerson Mnangagwa, Zimbabwe's president, posted on Twitter that he appreciated Sirizani's heroism. He wrote, "Let me take this opportunity to appreciate Sirizani Butau who saved people from the Mutare accident. As [the] government will honor him for his selfless sacrifice."
Thankful for ordinary citizens like this Zimbabwean hero. He risked his life for the sake of others. Eight people celebrated Christmas with their loved ones because a man took a bold, selfless step.
"Instead of each person watching out for their own good, watch out for what is better for others." Philippians 2:4