A young 11-year-old boy whose mom recently passed away due to cancer, was able to fulfill her last wish albeit a little late.
His mom's last wish was for him to meet Goalie Carey Price of the NHL's Montreal Canadiens but she passed away last November, before it could come to pass.
Nous avons une mise à jour du jeune partisan qui a rencontré Carey Price samedi après le décès de sa mère en novembre. Beau sourire, Anderson! ❤

We have an update from the young fan who met @CP0031 last week after his mother passed away in November. Great smile, Anderson! pic.twitter.com/wJYzGlH8cR

— Canadiens Montréal (@CanadiensMTL) March 1, 2019
The mother's dying wish came true when Anderson Whitehead, 11, met his favorite player, Price according to aunt Tammy Whitehead. She recently filmed a video of the emotional meeting between Price and her nephew, which was made possible by "very kind and generous friends" who arranged for Anderson to visit the team during a recent practice session.
I wanted to share this video of my nephew Anderson, meeting his idol, Carey Price of the Montreal Canadiens. Last year as Anderson's mom was dying of cancer she promised she would do everything she could to make his dream come true. Unfortunately, she passed away before that could happen but through some very kind and generous friends we were able to arrange a visit to the morning skate. As you can see in the video, Carey Price was a class act not only giving Anderson two signed sticks, a signed puck, signing his jersey and mini stick but he also gave him the biggest hug. Words cannot describe how much this meant to Anderson and we are forever grateful to this wonderful man.

Posted by Tammy Whitehead on Saturday, February 23, 2019
The video has been shared on Facebook with a caption by Tammy saying, "Words cannot describe how much this meant to Anderson and we are forever grateful to this wonderful man," Tammy wrote. It has since gone viral with nearly 6 million views. It shows Price giving Anderson "the biggest hug," as the two embraced for about 15 seconds. Price even signed Anderson's two sticks, puck, jersey and a mini stick.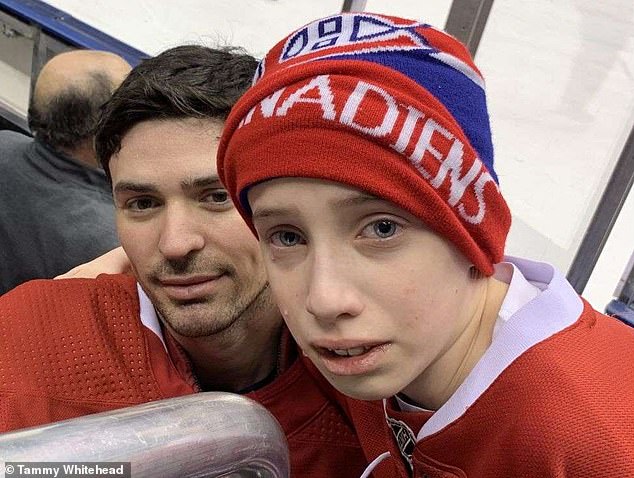 Price has not only touched Anderson by this act of kindness, but also his fans and millions of viewers around the world.