A Georgia girl with special needs adorable reaction on her first day back to school will surely make you smile.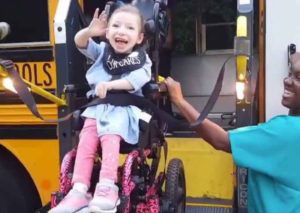 Six-year-old, Arianna Hopper was diagnosed with cerebral palsy even before she was 2 years old, but she really enjoys her time in school.
Arianna is in second grade at Altama Elementary School in Brunswick, Georgia, her father Hopper, filmed his daughter laughing as her bright pink wheelchair was loaded onto her school bus, and tells her "Have a good day, Arianna!"
The Glynn County Board of Education School Police also shared their video to their Facebook page which is now viral. Hopper, a police officer in Glynn County, says about his daughter, "As you can see by her personality, she's just all smiles," Hopper said. "No matter what, even in her situation, she's just joyful and loves life in spite of her disability."
SOMEONE was glad to go to school today
#cpwarrior #2ndgrader #smiley

Posted by Mark Hopper on Thursday, August 8, 2019
Hopper and his wife Page adopted Arianna at 2 years old after fostering her from birth. She didn't seem to have cerebral palsy in the beginning, and Hopper said he and his wife prayed about whether they could care for her after her diagnosis. The couple already have 7 children, 3 are adopted, including Arianna.
"By the time two years rolled around we had a decision to make," Hopper said. "Can we take this on? We prayed about it and decided that we felt comfortable about it and that God put her in our lives to take care of her. And we've been doing it ever since."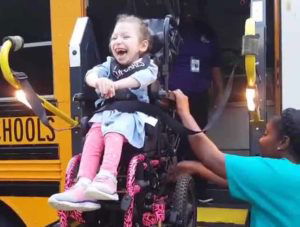 Arianna cannot speak, but is learning sign language at school as it provides a communication device, Arianna loves school because there is a lot of positivity from her classmates and the school is very interactive.
When Hopper asked her if she was excited to go back to school, she gave a huge smile and "nodded" her hand, sign language for "yes!". He said that in the future, stem cell research will give birth to treatments to help Arianna use her arms and even walk and talk.
He says of the now viral Facebook post, "Honestly everybody that comes in contact with her at church, at work, they always tell me they love her and how much her smile brings joy to them," Hopper said. "I'm glad that everybody gets to see this joy that she has that she brings to us every day and that everyone else can see and experience it."
Our best wishes for Arianna at school and may her parents have the ability to raise her up with everything she needs to become a fine young woman one day.
Watch the adorable video below.