Chick-fil-A employees are known to display Christian values that the fast food eatery stands for. One of their employees working the drive-thru in Chula Vista, California is being celebrated for saving a man's life.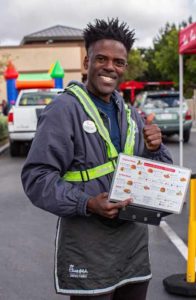 22-year-old team leader, Tauya Nenguke, saw something suspicious going on in the parking lot, so after handing his iPad to a co-worker, he ran across to make sure everything was ok.
He saw a 20-year-old man going into cardiac arrest on the ground being surrounded by friends trying to perform CPR, said Cheryl Shields, director of marketing and community relations for Eastlake Terraces Chick-fil-A. She shared the story on Facebook.
Nenguke, a nursing school hopeful with pre-nursing classes under his belt, immediately started doing chest compressions and told the man's friends to call 911. He taught the friends how to do CPR so they could do it till paramedics arrived and took the victim to the hospital.
Shields said that the EMT stated if it weren't for the Nenguke's quick actions, the young man might not have survived. She hailed the quick-thinking Chick-fil-A employee as a "CFA Hero!"
Neguke credits the incident to his faith and a calling by God for being in the right place at the right time. "I knew that was the place where God placed me at that time," he said. "This was honestly a really big calling to be in health care because it was like instinct took over."
The Bible says for everything there is an appointed time, "For everything there is a season, and a time for every matter under heaven" (Eccl 3:1). We must depend on God's timing for everything in our lives to be perfect.