Hailey Baldwin's aunt, Chynna Phillips, spoke about how she and Justin Bieber are making a difference for the kingdom of God.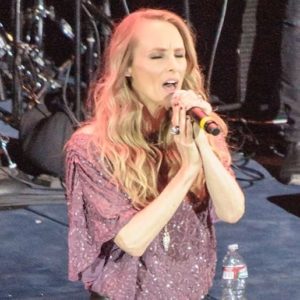 Chynna Phillips, 51, is a singer and one of the most outspoken Christians in the music industry. She said, "They are awesome examples of what it is to be a Christian and I feel like they're going to help pave the way for other young people to see it in a new light and see that Christianity is cool," Phillips said.
She is a member of the group Wilson Phillips and the daughter of John and Michelle Phillips of the 1960s group Mamas and the Papas and her husband is William Baldwin, whose brother is Stephen, Hailey's father.
Chynna Phillips has a Bible study in her Los Angeles home but Bieber and Hailey Baldwin don't attend it. She said it "would be really fun" if they did.
The singer became a Christian at the age of 12 when her classmates offered to pray for her. "I knew in that moment," she said, "that I had been touched by God and that Jesus was real and Jesus truly was the son of God and that I needed to come to terms with that reality because it was the truth. Ever since that moment I've known that Jesus is Lord."
But she spent most of her teen years, in alcohol and drug usage which was a "Band-Aid to cover up her abandonment issues with her father and grief surrounding his drug use. She had a renewal in her spiritual walk after her daughter, Brooke, was born in 2004.
"I had postpartum [depression]. I was isolating and I was unable to sleep," she said. "I knew that I needed help and one morning I felt enveloped by a light, by the presence of God and I felt His presence so strong in the room. I couldn't move, I was paralyzed by this force. I felt that it was realigning me. I felt that it was healing me and lifting my burden and pain and confusion.
She said, "It lasted about a minute and the very next morning it happened again around the same time and that's when I knew that I needed to recommit myself to Jesus Christ. I fell to my knees and gave my heart back to the Lord and said, 'You are the way, the truth and the light. I ask you to make me your vessel and put me out in the world as your messenger and let me share your truth with other people.'"
She said being a Christian in Hollywood, came with a "little bit of a stigma." She added, "People just automatically assume that you're a fundamentalist," she said. "That's unfortunate because I love everybody … I believe that the power of love overcomes all evil."
Phillips shares her faith on her YouTube channel. Her Instagram bio reads, "YouTube queen for the King, Jesus!!"