A single organ donation is set to be able to save 8 lives and is an unbelievable gift to the human race.
The loss of a Iowa family when their 1-year-old daughter died after suffering complications due to a virus, has given hope and life to two children and one adult due to organ donation.
Paul and Meagan Sobolik are being praised for their courage in sharing footage of the moment when their 22-month-old daughter, Coralynn "Cora" Eve Sobolik, was operated upon to have her organs donated.
A day before, the doctors declared Cora brain dead after she succumbed to complications from a virus.
The clip shows hospital staff and family members lining the hallway to pay tribute to Cora as she is taken to the operation theater.
"You get to save three people," the mother whispered to her tiny daughter. "I love you forever."
A GoFundMe campaign set up by Coralynn's aunt, Melissa Brevig, said, that she started showing signs of illness on April 19, when she was having difficulty breathing.
Cora was rushed to the hospital at Cresco Medical in Iowa, but doctors said it would be better to take her to Mayo Clinic Hospital in Rochester, Minnesota, an hour away.
During the time to sedate and incubate Cora for the transfer, her heart stopped working.
But thanks to medical staff who worked for 25 minutes to get her heart pumping again, she was successfully transferred to Mayo clinic.
Even though Cora's family believed she would make it after doctors telling them her heart was doing well, a CAT scan revealed she had suffered brain damage.
Doctors told her parents that there was a small chance that Cora would wake up, but she would not be the same.
True enough, overnight, her health deteriorated. "In the middle of the night, Cora's brain started to swell, and they did an emergency CAT scan," Brevig wrote. "This test came back with the worst news ever. There was no coming back."
Cora was dead on Easter Sunday, April 21.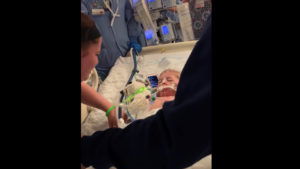 Her parents wanted to donate her organs to people who needed them, "When we knew that she wasn't ever going to wake and that she was gone mentally, we knew that she would want her organs to help people in need," Meagan Sobolik said.
Meagan Sobolik took a clip of the surgery, so that family members who could not be there in person, would also see the moment when Cora was touching millions of lives with story.
Sobolik said that she was speechless, when she experienced the outpouring of love and support for Cora.
Her obituary read, "Even though Coralynn was so young, she made a huge impact on the world."
Cora was able to donate her heart and save the life of a 1 year old boy, her liver impacted the life of a 1 year old girl, and her kidneys helped a 41 year old lady.
She says, that when your child donates their organs, they continue to live on in others lives, they save the lives of people that would have died if they had not received the organs.
Sobolik says, "Our daughter was absolutely the world to us. She was such a happy little girl and always laughing — her laugh was infectious.
"Cora is our little superhero, and I believe is becoming an inspiration for millions of people and also helping to raise awareness for organ donation all over the world."
Live on little angel Cora, in the lives of all those you have saved, and in the memories of your loved ones.