Random acts of kindness happens all around us and when it is highlighted it inspires many hearts. A kind hearted doctor stepped in to console the crying baby while the sick mother was in Emergency Room is aptly highlighted here, and you too w'll join to appreciate him!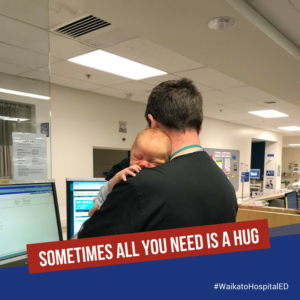 One New Zealand mother was to visit the hospital with no choice but to bring her infant along with her. During her stay in ER about an hour time, hospital staffs attempted to calm her crying baby. When none were successful to cuddle the baby, Dr Muir Wallace, a doctor working in the ER grabs the crying baby and cuddles him in his loving arms!
On that day, Dr Wallace was running the entire department and was working at the ER as well. Despite his busy schedule he spared time to assist the crying baby that badly needed a snooze. His incredible multitasking abilities and the kind gesture of caring love is  worth praising.
The Waikato Hospital posted an image of doctor comforting the baby in their Facebook page and the people were spontaneous to respond to the post.
" This doctor is truly an inspiration"…..
"You can tell he's an awesome man from that one act!"
"This Dr is amazing,"…..
"Thank you Muir for caring for 2 people that day above and beyond what you would have to do."…..
The comments of appreciations and encouragements are flooding for him!! I am so happy to see it! Congratulations Doctor!!