60-year-old Eunan couldn't believe his eyes when he turned around and saw his daughter Carolyn standing behind him at a restaurant in Ireland.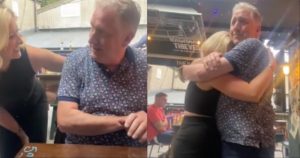 It had been over three years since they last saw each other, and she looked so different now. She was all grown up, with a beautiful blonde woman's face. The two of them just stood there staring at each other in disbelief, until finally they both threw their arms around each other in an emotional embrace.
Carolyn had been living in Australia for the past few years, but she had suddenly decided to come back home to see her parents.