A heartwarming post on social media about a father and daughter in Malaysia has become viral and is garnering praise from netizens.
Willy Chong shared a photo on Facebook about where he was eating at a Bak Kut Teh shop in Malaysia. It showed a father and daughter eating a meal with a stranger.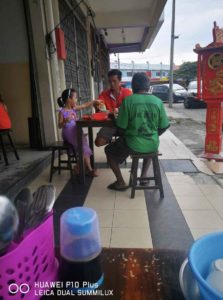 Chong spoke about how touched he was with what the family had done.
He wrote, "This Indian brother in green is a vagrant," he wrote. "He stood at the entrance of this Bak Kut Teh shop and stared as he rubbed his stomach."
The father noted him and asked him if he was hungry, he nodded, so the father invited him to sit with them and eat food.
今天自己亲眼目睹感人一幕,
青衣的印度同胞是一名流浪汉,
站在这家肉骨茶门口看着看着,一直抚摸肚子
红衣服这位大哥看到了,就问是否肚子饿
流浪汉点头,华人大哥就邀请他一起坐下点了食物给这位流浪汉印度同胞。
#重点是小女孩没嫌弃这位老流浪汉,…

Posted by Willy Chong on Saturday, May 18, 2019
Chong further said that the little girl wasn't scared of the vagrant, but told her father to give him a cup of Chinese tea.
"There is compassion in this world. I want to commend this father and daughter. This father is such a role model. This is the right way of bringing up a child. Malaysia is a multi-racial nation. It doesn't matter what race you are, everyone can co-exist in harmony. This is how Malaysia can progress," he wrote.