Dickie V has been a staple in the world of college basketball. Many were saddened when he announced that he had Cancer late last year. But, he was touched big time when he read this letter from an 18-year-old fan. Read on and find out why.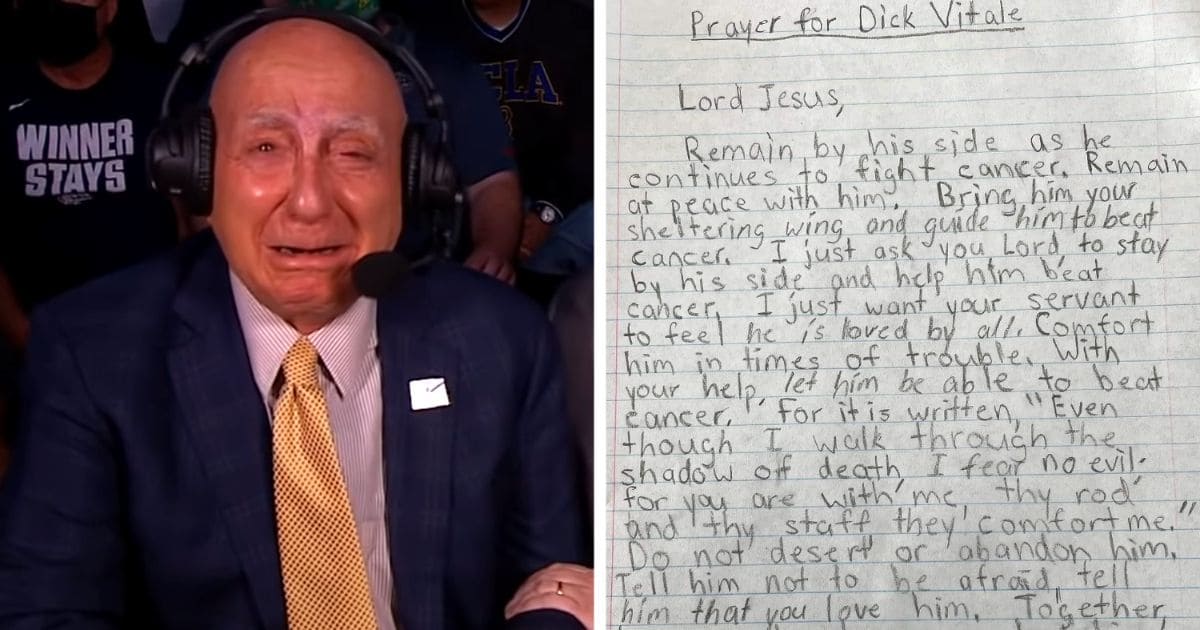 College basketball commentator Dickie V also known as Dick Vitale has been part of the business for more than 40 years. He is known for his charisma, commentaries, and signature expressions, "awesome, baby!, Rolls Roycer, Maalox time," among others.
He livens up a game with his charm, wit, and fun personality! There is no dull moment when Dickie V is around. But, many were shocked and got worried when this energetic basketball commentator announced that he was battling Cancer. The doctor handed him the grim diagnosis last October.
A regular dermatologist appointment led the doctor to discover a melanoma on his nose. It was surgically removed, and at age 82, it was confirmed that he has Lymphoma. Chemotherapy sessions were immediately initiated, and because of this, he had to step down from the world of basketball.
After some time, his health quality improved, and he was back where he loves to be, at the basketball court. He got emotional on his first stint after being away for some time. But, this did not last long. He was only part of 12 games and had to step down again because of lesions on his vocal cords. This veteran underwent surgery last 2018 for ulcerated vocal cords. Thankfully, this time, surgery was not needed.
This unfortunate incident forced him to rest his voice. "Needless to say, that tore out my heart, but I must care more about my health than jump shots," Dickie V said.
This sudden, forced change did not stop him from inspiring many. He shared his everyday journey on Social media. This man, who has always been a ray of sunshine was encouraged when he received prayers and uplifting messages from different people. However, he was particularly drawn to a message from 18-year-old Charlie Osborn. This amazing teen has written Dickie V a letter. "It really touched me big time," the veteran sportscaster shared.
Charlie, a young man with Down Syndrome, poured out his heart and prayed for his idol's healing. His letter stated:
Lord Jesus,

Remain by his side as he continues to fight Cancer. Remain at peace with him. Bring him your sheltering wing and guide him to beat Cancer. I just ask you, Lord, to stay by his side and help him beat Cancer. I just want your servant to feel he is loved by all. Comfort him in times of trouble. With your help, let him be able to beat Cancer. For it is written, "Even though I walk through the shadow of death, I fear no evil; for you are with me, thy rod and thy staff they comfort me. Do not desert or abandon him. Tell him not to be afraid, tell him that you love him. Together, he can beat Cancer. Let him be a follower and a true example of your love, mercy, and kindness. Amen.
This heartfelt prayer touched Dickie V so much that he posted it online. Charlie even quoted a verse from Psalm 23 to encourage him.
Let's keep Dickie V and his family in our prayers. God's total healing and peace be upon him. May he have more fruitful years to say, "awesome, baby!"
"Even though I walk through the darkest valley, I will fear no evil, for you are with me; your rod and your staff, they comfort me." Psalm 23:4