Stray dogs saved the life of a new born baby after the mother threw her away in a drain in India.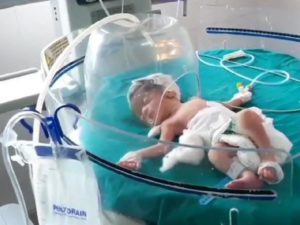 The incident which happened in Kaithal district of Haryana shows CCTV footage retrieved by the police showing the girl's mother throwing her into the drain all wrapped in plastic. It happened at around 4 am when cameras captured the woman walking towards a drain near the Dogra Gate in Kaithal.
She can be then seen throwing the child wrapped up in plastic foil into the drain, the shrieks of the wailing newborn baby must have alerted the stray dogs there and they can be seen barking and rushing in the baby's direction, our furry friends then pulled the baby out of the drain.
Bystanders who saw the entire incident, alerted the local police. Officers arrived at the spot and took the newborn to the closest Kaithal Civil Hospital where she is being treated. The Principal Medical Officer of the hospital said that the baby is alive but is in a bad condition and that they are doing everything to save the child who weighs only 100 grams.
Civil Hospital officials said the baby would be handed over to the National Commission for Protection of Child Rights (NCPCR) as her condition improves and then to the Panchkula Orphanage after the paperwork is completed.
Police have also registered a case against the mother who tried to discard her own baby, and they are trying to establish identity of the woman first, once identified, she will be charged with relevant sections of Indian Penal Code (IPC).
Our hearts go out to the newborn baby who had to suffer such a terrible ordeal at the hands of her own mother who was supposed to nourish and cherish her, but hats off to those two furry friends who taught humans the meaning of humanity today.