Anyone can father a child, but being a dad takes a lifetime. A father plays a very important role in a child's life that cannot be filled by others. That role helps shape a child into the person they become later in life.
Fathers and mothers are equally important in the development of a child, children to their fathers to provide security in terms of physical and emotional. Elizabeth Bautista Boyd of Oklahoma is blessed to have such a father who still cares and protects her even though she is a grown-up 39-year-old working woman now.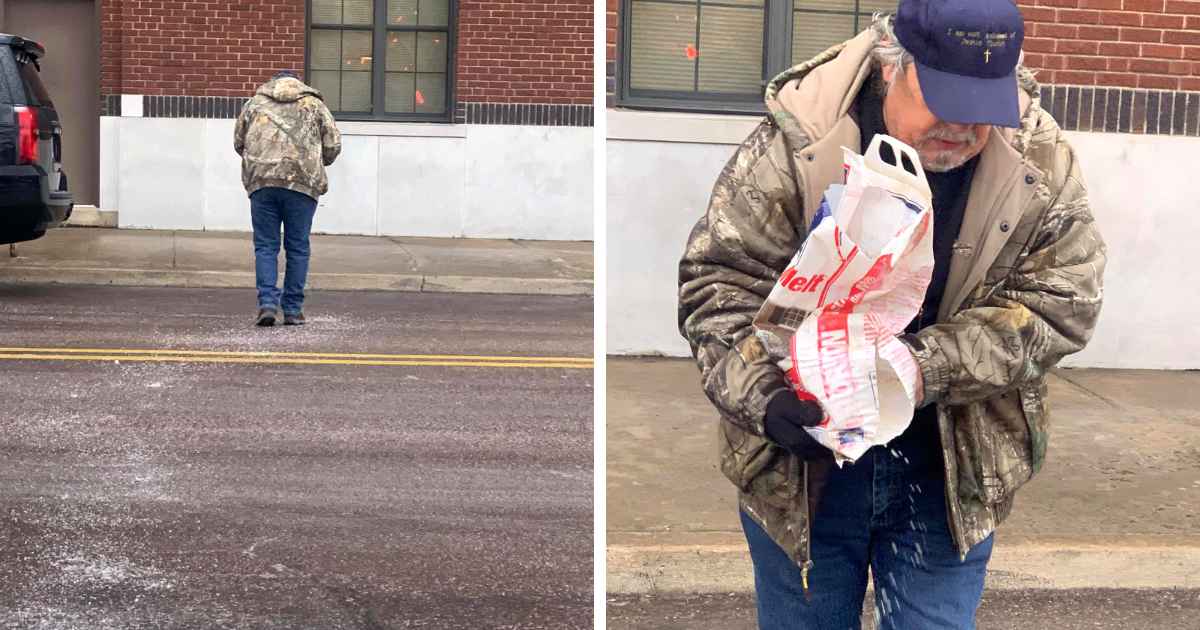 Boyd had to get to work but the roads were frozen, and so her dad thought about this fact and did something amazing for her. She shared photos of her father's act of kindness on Wednesday.
"You guys… THIS IS MY DAD," she wrote. "He drove to my workplace and waited on me to arrive so he could pour a trail of salt from my vehicle to the front door of my building so that I, his 38-year-old daughter, wouldn't slip and fall on the ice…
"My heart y'all… Love you daddy." The photos show her dad with a bag of salt scattering a path of salt across the icy road, the post resonated with thousands of people, and in around 24 hours, it got over 70,000 reactions and over 76,000 shares.
Some wrote, "Do something extra special for him!" wrote one person. "Definitely give him a HUGE HUG, big enough for all of us who no longer have our dads." Others wrote, "This melted my heart!!" Someone wrote, "What an amazing Daddy you have. Wish mine was still here."
Someone even pointed out that her dad was wearing a baseball cap that read, "I am not ashamed of Jesus Christ," and that must be the reason behind his caring and loving attitude toward his daughter.