Broward County First responders paid out of pocket for a homeless disabled woman's hotel room to keep her out of the rain.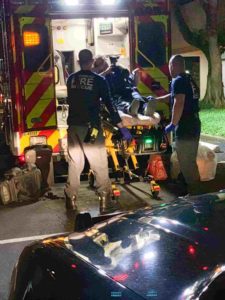 The fire station 37 fire crew responded to a 911 dispatch about the lady who had a complaint of foot pain at 2 a.m. in the morning in Lauderdale Lakes, a city in Broward County, Florida.
The regular call turned into something else when they reached the spot, Daniel Rodriguez one of the crews said that the lady had more than 10 bags and boxes of personal belongings and shared an emotional story of how she was recently evicted from her house and had recently lost her mother, who she had taken care of full-time.
The trio tried their best to check for shelters and programs to help with assistance, and even contacted Broward Sherrif's Office about a homeless outreach program, but that was from 9 a.m. – 5 p.m., and they could not take her to a shelter as she had a dog with her.
They said, "It was raining, it was the middle of the night, the area was not great in terms of crime and the dog was older and sick."
So the crew called local hotels appropriate for her to spend the night, and asked her to put necessities and sentimental items together before they moved her.
Once they got a stretcher and she got her items together, they took her to a hotel and shared the expenses from out of pocket.
"We've never felt like this — all 3 of us unanimously felt compassion for this lady," says Rodriguez. "She was very appreciative, she cried with us, she talked with us about personal things. It wasn't just assistance, she also needed someone to talk to."
They also gave her contact numbers and information about local shelters and while they don't know where she is now, she had told them that her brother would come the next day and help her out.
The trio said that when they do something like this, and go back to the station, they know they "impacted someone's life."
District Chief, Ken Kronheim says this is not the first time they have done something like this, "That's kind of how we try to operate in the City of Lauderdale Lakes. We're proactive about going the extra mile," he says, "I always tell the crew that the saving of lives is expected, but when we do the unexpected — whether it's picking someone out in the rain and bringing them home or buying someone groceries — that's when we wow the community."
What a selfless act of kindness our first responders have done for this elderly disabled woman, they have instilled our hope in humanity.