It was a dream come true for an elderly lady when a kindhearted young man gave up his first class seat to let the 88-year-old pensioner fly from New York to the UK for the first time.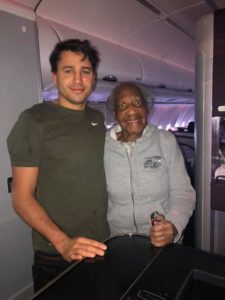 The story was reported by Virgin flight attendant, Leah Amy, based in Manchester, England, who saw the the unlikely friendship of her "two favourite passengers EVER," unfold before her very eyes.
Leah says she met Violet, an 88-year-old retired nurse who was flying back from visiting her daughter in New York and that she has met famous people like footballers, supermodels and some Hollywood movie stars she counts these two as her all-time favourite passengers in a post she shared on Facebook.
Violet was flying in the economy section of the plane, when she met Jack who was traveling with his family in first class.
Jack was so charmed with Violet that he decided to change seats with her and gave up his first class seat so that Violet could experience it instead.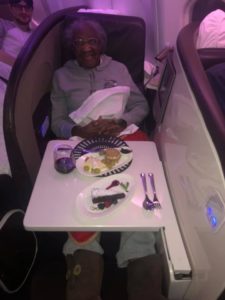 "Jack and his family purchased seats In our upper class cabin for a flight home from New York, but when he got onboard, Jack went and found violet in economy and swapped seats with her," Leah wrote.
Jack was seated in his new economy seat directly next to the economy toilets and never made a fuss or asked for anything the rest of the flight. "No fuss, no attention, literally did it out of the kindness of his own heart, no one asked him too," Leah wrote.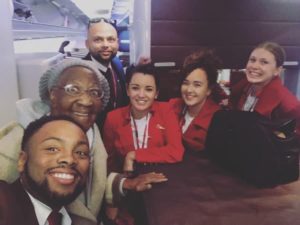 Violet visited her daughter in New York after a long time due to her health problems which prevented her from flying earlier. "She travels to New York to see her daughter, but hasn't been able to for a while because of a knee replacement," Leah wrote.
It was always Violet's dream to sit at the front of the aircraft, and Jack made it possible.
Violet wanted to take photos to prove that she actually traveled in first class as her daughter wouldn't believe it, so Leah and her colleagues posed for a photo with her and promised to send the photo on to her daughter as Violet did not have a phone nor an email id.
The excited grin on Violet's face tell of the joy she got through Jack's act of kindness towards her, what an extraordinary act of selflessness from the young man towards the elderly lady.