The internet is full of stories about brave deputies putting their lives at risk to rescue people caught up in dangerous situations but an incident that occurred recently in Port Charlotte, Florida, beats them all out.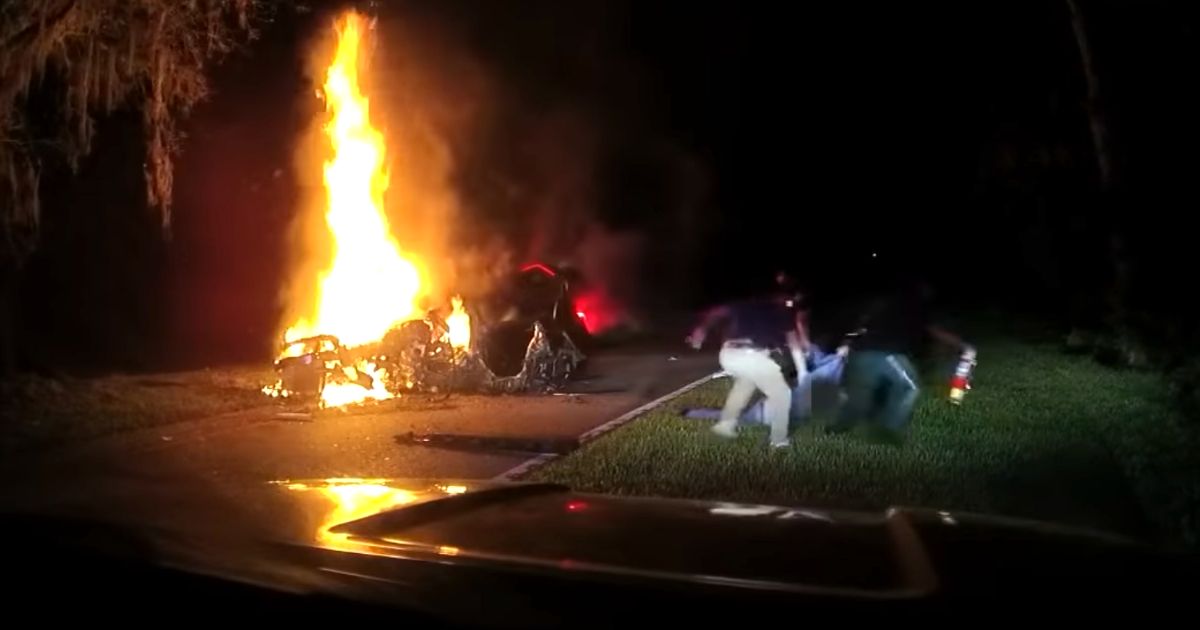 Relentless officers were up for a giant challenge on Saturday morning when they had to help free a man who was trapped inside a burning vehicle. A video of the rescue shows "unbearable' 5-feet high flames coming out from a burning car with deputies Garrett Parrish and Bryant Ovalles Vasquez struggling to free a man from it.
Both the deputies work with the Charlotte County Police Department and responded to the desperate screams of the man trapped inside the car. The man was allegedly trapped by his own seatbelt and couldn't free himself and so the officers and a Good Samaritan used a fire extinguisher and a pocketknife to help him get free.
It's unbelievable to think what that man must have undergone with such huge flames coming from his car, it was only the hand of God that was upon him that kept him alive. He promises to always deliver us even when we pass through the fire or flood, but we must be bold and trust in His word.
An official statement said, "When DFC Parrish and DFC Vasquez ran to the victim, they found his seatbelt caught around his neck and upper body," it said. "The heat from the flames [was] described as unbearable, which made it difficult for them to remain close to the victim for long periods of time."
Our hero deputies were not shaken by the dangerous flames or by the fact that the car could explode any moment but only had one goal and that was to save that man's life. They persisted till they rescued him and then he was taken to the hospital immediately where he was in critical condition but expected to survive.
The deputies' heroic action was praised by The Charlotte County Police Department who took to social media to talk about what Parrish and Vasquez did. "You truly never know what the night will hold," Sheriff Bill Prummell said in a statement. "The job of a deputy is to act bravely in the face of danger, regardless of what lies ahead. These young men did just that. I couldn't be prouder."
Deuteronomy 31:6 "Be strong and courageous. Do not be afraid or terrified because of them, for the Lord your God goes with you; he will never leave you nor forsake you."