A young boy with autism got the surprise of his life when a football team turned up to wish him on his birthday.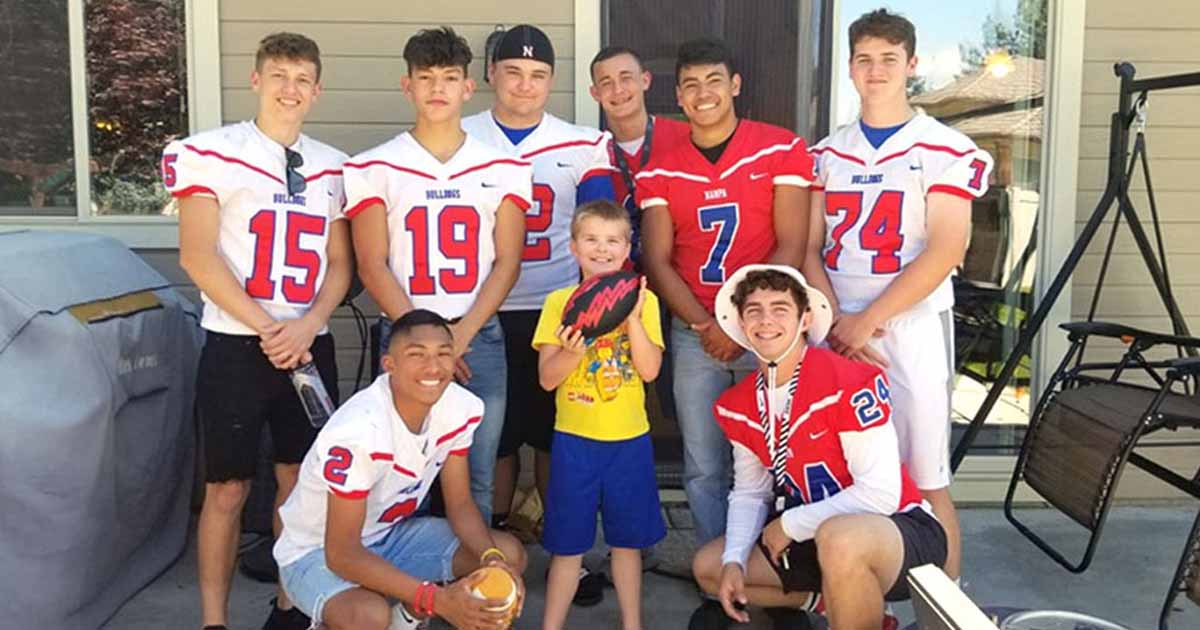 Christian Larsen was excited to celebrate his 9th birthday with all of his friends. His mom Lindsay Barrus Larsen took to Facebook to say that their family had never experienced had a party with classmates for their son before. But this year, they gave in to their son and decided to let invite 25 of his classmates and gave him instructions to pass the invitations to them at his Idaho school.
She began to worry when after some days later she had still not received a single RSVP back, she thought maybe it was her son's autism which made his classmates uncomfortable, she wondered if it was the reason behind them not coming to the party. "I know a lot of people just don't [RSVP], so I was hoping that's all that was going on," she wrote.
But sadly her worst fears were proved to be right. "At the end of the school year picnic Christian was saying goodbye to his "friends" and asked them to RSVP," she wrote. "I watched as he talked to 6 kids from his class. He addressed them by name, paused, then talked. He has worked so hard to learn names this year, and I could tell he was proud as he talked to them."
Christian's mother was watching as her son talked to his classmates and told them to come to his birthday party. "He asked a couple for high fives. One girl responded to him and said ok, and smiled." But, she wrote, "Three didn't respond to him at all." She added, "The parents didn't acknowledge Christian either," Larsen added.
The 9-year-old's mother decided to speak about it in her post where she urged parents to be better role models for their children to help their kids break down the barriers of differences. "Find time," she wrote. "Make time for compassion."
Larsen was determined that her son would have a great birthday party, she began planning it with just their family and the one little girl who had accepted his invitation. Suddenly a friend of hers in Texas reached out and suggested that a friend's husband had played football in college with a man named Dan who became a football coach in Larsen's area and soon, Coach Dan got in touch with Larsen "asking if he could come to the party with some of his best players."
Larsen was hesitant at first with a son who had autism but still she wanted to make sure that Christian got the support he needed on his birthday. "But, then I got over myself, and happily accepted," she wrote. "Because if community wants to come together, and celebrate Christian, why should I stop that. It was a beautiful thing to be a part of."
The day of his birthday, family and friends from school, and neighborhood celebrated with Christian and then Coach Dan and his players showed up in the middle of the party, the clip of the moment when Dan and the team arrived to surprise her son, chanting his name as they walked into the backyard is warming hearts everywhere.
"It was truly amazing to watch them," Larsen wrote. "They played games and got down on the level of the little kids and got them all involved." She added, "Even my not naturally athletically inclined Christian, was running 'touch downs!'"
The kids were asking for their autographs, and the football players watched as gifts were opened and were excited about it, they all sang to Christian and watched him blow out his candles. Larsen adds finally, "There is so much good in this world," Larsen said. "And when things are hard, the good shines even brighter."
CHristian and his family's day was surely made so much brighter by the outpouring of love and support received by his family, friends and the football team players.