An elderly woman got a sweet surprise on her 100 year milestone when her garbage collectors helped celebrate her big day.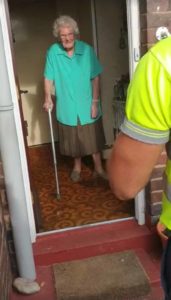 Dorothy Ballard, a mother of three with eleven grand-kids and 32 great-grandchildren, was showered with flowers, gifts and special notes of congratulations on August 8, her 100th birthday.
She got an unexpected surprise from her favorite garbage men. Ben Bird, Ballard's favorite garbage man, had earlier joked with her that he would get her a cake "if she made it to 100," he said. And when the time finally came, he made sure to keep his promise.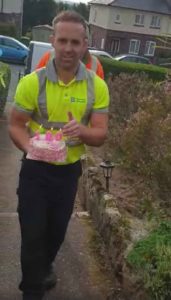 Bird has been collecting Ballard's rubbish for the last 8 years and the two have developed a great friendship. "I talk to her every Thursday from 8am to 8.10am and every time I walk up her garden path she will be there waiting for me," he said. "I've been a binman for about 11 years and love listening to her stories about her life."
"We have deadlines to meet on our round, but my colleagues carry on and let me catch them up – I could not pass Dorothy's house without stopping to speak to her," he added. A video captured by the garbage collectors show the men sneaking up to Ballard's house, whispering excitedly. Bird carries the pink birthday cake, protecting the candles from the wind.
They then call her nickname, "Mercy" as they come closer to the front porch. As Ballard comes to the door, she can be seen shedding happy tears. Then the three men finish singing "Happy Birthday" to her. "Make a wish!" Bird says, and adds, "to live to 105," as a suggestion, but then Ballard tells him affectionately to "Shut up!"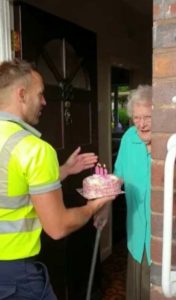 The clip was shared to Facebook by Katy Smith, Ballard's granddaughter, writing, "my heart has melted." The video has since been viewed over 3.5 million times, putting smiles on all the faces of those watching it. "My Gran always speaks so highly of her binman," Smith wrote. "He made her day."
This surprise birthday video has really made our day special with these binmen's act of kindness on Ballard's 100th birthday. Hope it made yours too.