With most nursing homes closing their doors to visitors due to the coronavirus pandemic, a new father and mother in Cobb County, Georgia, introduced their newborn daughter to her great-grandfather through the window of his room in the nursing home.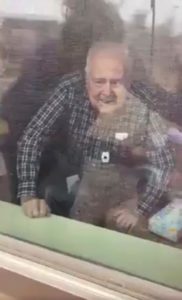 Kathy Rezac shared the video on Facebook, writing, "Want your day made? Watch this. My granddaughter meeting her great grandfather for the first time. Love shines through windows. Feel free to share – we could all use a little uplifting these days."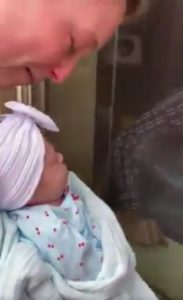 "She is everything and more."
"Is she beautiful?" his daughter asked. In response, the great grandfather said, "She's everything and more."
"She is everything and more."

A great grandfather meets his great granddaughter for the first time in the age of coronavirus.pic.twitter.com/ZWNiGUBuke

— Travis Akers (@travisakers) March 24, 2020
"What a beautiful baby," he said to his granddaughter. "You did a good job." This is another heartwarming video of people finding new ways to communicate with their loved ones in nursing homes around the country with all the restrictions in place due to the spread of COVID-19.