A homeless man in Sydney, Australia, just got his best friend back after nearly two weeks of waiting.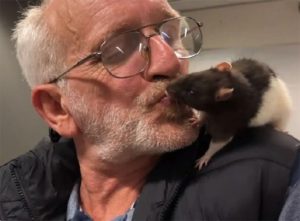 On April 6, 59-year-old Chris had gone to use a nearby restroom leaving his pet rat Lucy on her own. But when he returned, Lucy was nowhere to be found.
The duo are well known to many Sydney residents, who walk past them every day. Soon after Lucy went missing, a picture of Chris along with a sign was posted on social media. It read : "My pet rat Lucy was stolen on Saturday.". The post went viral and his story came to the spotlight.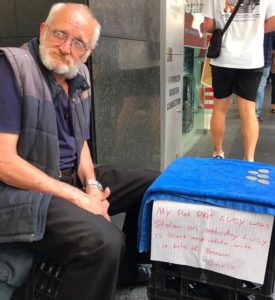 It turns out a woman, who saw Lucy alone, took her home and cared for her, thinking she had been abandoned. Meanwhile NSW Police asked for public support to find the woman and finally they found her. This is the touching moment, NSW Police reunites Chris with his beloved pet rat.
Great news!

Officers from Sydney City Police Area Command have reunited a homeless man and his pet rat today, after she went missing last week.

Just after 2pm on Saturday 6 April 2019, a homeless man left his pet rat 'Lucy' on a milkcrate on Pitt Street while he used a nearby bathroom.

A woman, who walked past and saw Lucy alone, believed she had been abandoned, so took her home and cared for her.

Thanks to all our Facebook followers, Lucy was safely retrieved today and returned to her owner.

Posted by NSW Police Force on Wednesday, April 17, 2019