A heartwarming video of a doting sister singing 'Country Roads' to her brother with down syndrome, is bringing smiles on the faces of people around the country.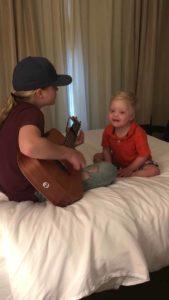 The video posted by Utah mom Amanda Lee Gray, shows Bo looking adorably at his big sis Lydia as she plays the guitar and sings the old familiar country song.
Little Bo seems to be enjoying himself as he jumps up and down on the bed, while Lydia enthralls him with her singing.